Due to the pandemic, the NCAA has offered senior college athletes around the country a waiver to compete for an extra year. Many fourth-year student-athletes at UMBC and around the country will take advantage of this opportunity, but others decided to press forward with making the most of an unusual senior year before shifting gears to the next phase of their lives.
Among that group in Retriever Nation are a pair of lacrosse players, a swimmer, and a diver who will earn undergraduate degrees this month. All four are recognized for outstanding achievements during a very challenging time for student-athletes. And all four share that support from UMBC Athletics staff was instrumental in helping them reach their goals and move forward along their paths.
From sports to sports journalism
Nick Doyle '21, media and communication studies, has been a steady contributor for men's lacrosse, including during UMBC's America East championship run and NCAA Tournament win over Marist in 2019. He's also a voice of UMBC Athletics, both on air and behind the scenes.
Doyle assisted with player interviews on "The Ryan Odom Report," provided on-air analysis on women's soccer's streamed game broadcasts, and led social media takeovers for the men's lacrosse Instagram account, among other projects. He also wrote game recaps, gained experience behind the camera, shadowed on-air talent, and learned how to construct a sports broadcast.
"UMBC's partnership with ESPN+ allowed me to receive hands-on experience inside the tech truck with producers, directors, replay personnel, and graphics," says Doyle. The San Diego native worked for his hometown Padres' flagship station in the summer of 2019 and put those recap writing skills to good use.
"UMBC Athletics has been an invaluable source of support, guidance, and confidence for me," Doyle shares. "Since I introduced myself to Steve Levy ['85, interdisciplinary studies], he has taken me under his wing and has done an amazing job getting me into positions of opportunity and experience."
He also noted that Zach Seidel '12, media and communication studies, M.S. '15, human-centered computing; Dustin Roddy '14, American studies; and Shanna Moser have "all played instrumental roles in advancing my experience at UMBC, not just as a student-athlete, but in sports journalism."
Doyle will pursue his master's degree at the University of Maryland, College Park's Philip Merrill School of Journalism in the fall.
Community leadership
Like Doyle, Cassie Evans '21, biological sciences and psychology, is a defender on the lacrosse field. She has started in all 33 UMBC's women's lacrosse contests since 2019 and earned America East All-Academic Team honors in 2020 and 2021. She's also a 4.0 student who earned the UMBC psychology department's 2020-21 Distinguished Achievement Award. And she got there, she says, thanks to the support of a caring advisor.
Evans serves on the executive board of the Student-Athlete Advisory Committee, for which former UMBC Athletics' Academic Advisor Kristin Ferris served as staff advisor. "Kristin has always believed in me," Evans shares. "I always went to her when I was stressed or struggling and she actively worked to create a plan of action that helped me approach problems with ease. She advocated for me in so many settings."
Ferris shared that Evans "has been tremendously effective as a community leader despite challenges faced by the COVID-19 pandemic." In summer 2020, Evans coordinated a virtual 5k that raised over $2,000 for Baltimore's Living Classrooms organization in support of anti-racism and social justice. She later organized an equipment drive for the Children's Home, collecting over $3,300 of sports equipment and art supplies for displaced children.
Evans shares that Ferris introduced her to leadership opportunities she didn't know existed, such as serving as the student-athlete representative on UMBC's Athletics Policy Committee. Of Ferris, Evans says, "I respect her so much and have learned so much from her. She has taught me through her own actions the importance of work ethic, persistence, reliability, accountability, and determination."
Currently studying for the MCAT, Evans will continue volunteer work in Baltimore and El Salvador prior to medical school. Her long-term career goal is to support those who do not have access to affordable medical treatment.
Team support
As a men's swimming team captain for two years, Jeremy Gates '21, mechanical engineering, has spent a lot of time thinking about how to support his teammates in connecting with and taking care of each other and competing at a high level during a pandemic. Part of his approach was hosting outdoor, small-group team-building activities that met COVID-19 protocols. Another major piece was being present for other swimmers who needed one-on-one support.
"I have tried to make myself available for my teammates whenever they need it," says Gates. While he doesn't always know the perfect thing to say, he shares, "I have found that simply lending an ear as a friend is a good start."
Gates also found it was important to reach out to others for support, and to make sure he was managing his own stress. "I am no help to anyone if I don't take care of myself first," he says. "The great thing about this team is that there are numerous people I can go to if I need someone to lean on."
One person that Gates and his teammates leaned on was Brian Amenta, director of strength and conditioning. Amenta, a six-year UMBC veteran, completely revamped all 17 UMBC Athletics' teams training regimens to meet COVID health and safety guidelines, and understood the pressures Gates was experiencing.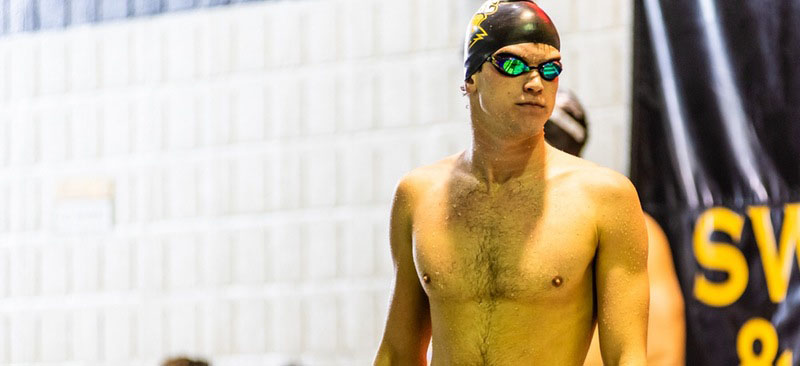 Amenta became a fixture in the lives of Gates and his teammates. Starting in fall 2020, Amenta worked with the team twice each week twice each week at 6 a.m., with dry land training. He provided Gates with a model for working effectively with a large group of student-athletes while supporting team members' individual needs.
After graduation, Gates will reconnect with family in California before starting as a systems engineer through Northrop Grumman's Pathways Program.
"One of the toughest years"
After injury-plagued sophomore and junior campaigns, diver Isabel Rayner '21, biological sciences, was looking forward to a strong finish to her UMBC career as team captain. Then came the COVID-19 pandemic. Rayner helped her team feel connected and supported at a time of great uncertainty. The cancellation of a meet in fall 2020, just three days before it was scheduled, was a particularly challenging setback.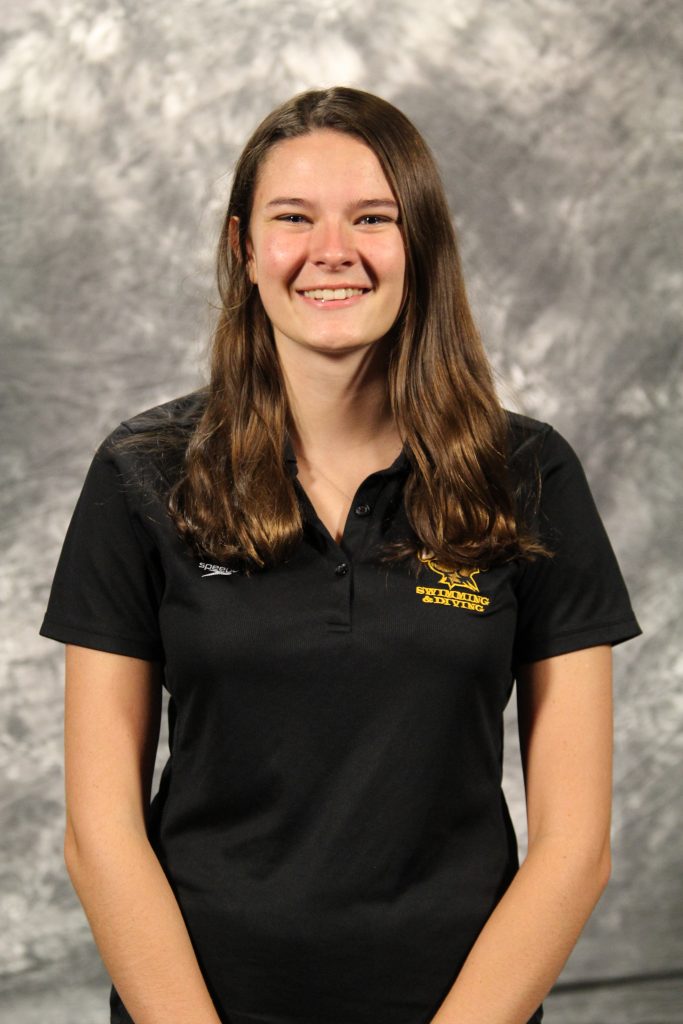 "My biggest goal in being captain is to make everyone feel that there is support all around them," said Rayner. Her greatest challenge was taking care of herself. "I was so focused on making sure that everyone else was okay that I struggled to find a balance," she says.
Rayner's injuries started in her sophomore year—chronic bicep and shoulder strains and a sprained ankle in 2018-19. That same year, athletic trainer Meghan Sullivan (at UMBC since 2011) was assigned to the team. "Meghan has been there for me without fail," says Rayner. "These injuries were never severe enough to keep me out of diving, but they did require physical therapy. I was in the training room every day with Meghan. And she was always there for emotional support."
Last season, Rayner suffered a wrist injury when entering the water and was back in the training room daily. She was able to compete in the 2020 championships and climbed the ladder for the final time as a Retriever in an April 2021 meet, placing second on the three-meter board.
She's grateful to Sullivan for helping her get to the podium one more time in her senior year. "Meghan has been invaluable to me and others as a support system while we've gone through one of the toughest years of our lives," Rayner says.
After graduation, Rayner will work as a diving coach prior to graduate school.
---
Article written by Steve Levy, associate athletic director for athletic communications. Featured image: UMBC lacrosse player Nick Doyle. Photo by John McCreary for UMBC Athletics.
Tags: Athletics, Biology, CAHSS, ClassOf2021, CNMS, COEIT, MCS, MechE, Psychology