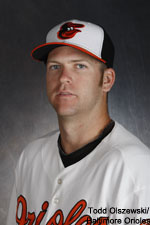 UMBC alumnus Zach Clark '06, psychology, has been called up by the Baltimore Orioles to join the team for their series with the Seattle Mariners at Safeco Field in Seattle, the organization announced on yesterday afternoon.
A right-handed pitcher, Clark becomes the third Retriever to make a Major League squad, following in the footsteps of former UMBC students Jay Witasick and Wayne Franklin who combined to throw in the majors for 19 seasons.
Clark started the season with the Orioles' Triple-A affiliate, the Norfolk Tides, after being signed to Baltimore's 40-man roster back on October 31, 2012. He reported to the Birds' Spring Training camp in Sarasota, Fla. in February before being assigned to Norfolk to start the regular season.
Clark has made five starts with the Tides so far this spring going 1-2 with a 4.56 ERA. In his last start, the 29-year old minor league veteran threw seven scoreless innings against Charlotte while scattering four hits. The right-hander struck out seven batters while walking just one.
Clark competed at UMBC from 2002 until 2006, when he signed as an undrafted free agent with the Orioles. While with the Retrievers, Clark made 41 starts, the third-highest total in school history, while also striking out 171 batters, the sixth-highest total for the Retrievers. In his senior year, the right-hander went 1-6 while posting a career-best 3.86 ERA. Following the season, Clark earned a bachelor's degree in psychology from UMBC.
After signing with the Orioles in 2006, Clark was shuffled through the organization until he shored up a spot in the team's plans last season. Following a year in which he went 10-9 with a 5.00 ERA at Double-A, the former Retriever turned around his fortunes in 2012 by winning ten of his 15 decisions and recording a 3.19 ERA for the Bowie Baysox while also making spot starts for Norfolk. He was rewarded with a spot at the Eastern League All-Star Game in early July and then earned a full promotion to the Tides in August. Ending the season with a three-hit, complete-game shutout of Gwinnett, Clark finished the season with a 5-2 mark and a 1.75 ERA in Norfolk.
The Orioles, who are in the midst of a season-long 11-game road trip, currently sit in third in the American League East with a 15-11 record, 3.5 games behind the Boston Red Sox. After Baltimore finishes this three-game series with the Mariners on Wednesday, the team heads to Los Angeles for a four-game set against the Angels before heading back to Camden Yards for a three-game home series against the Kansas City Royals on May 7-9.