Decades after the start of the internship boom, internships continue to be invaluable for both undergraduate and graduate students. As UMBC students demonstrate, gaining real-world experience and networking within an area of interest can have a lasting impact when it comes time to search for a full-time position.
"Most employers use internships as a recruiting tool to find their future full-time employees," says Christine Routzahn, director of the Career Center. "Nearly 60 percent of our recent graduates who were employed at graduation indicated that they accepted full-time offers with an organization that they interned or worked for while at UMBC."
These students were able to use the skills and tools they acquired as interns to transition to full-time positions after their UMBC graduation. Many took advantage of the opportunities afforded by UMBC's Career Center to secure their positions. According to Susan Plitt, associate director of the UMBC Career Center, "Nearly 800 employers visited the UMBC campus last year to connect with our students. Each semester, we coordinate career and internship fairs to aid in making these connections."
This year's Fall Career and Internship Fair on September 25 will host 160 organizations, many of whom are seeking summer 2020 interns, from first-year undergraduates to advanced graduate students.
Here, six recent UMBC alumni share how they used campus resources and connections to secure full-time positions and move forward in their career, with advice for today's UMBC students.
#1 Don't worry if it doesn't go according to plan
Jordyn McKenzie '19 thought she was coming to UMBC with it all figured out. She'd earn a degree in biology, then pursue a career in the field. A graduate of North Hagerstown High School in Maryland, McKenzie focused on taking STEM courses at UMBC, but over time she found her passion shifting.
After switching to a major in media and communication studies at the end of her first year, McKenzie wasted no time in working towards her new career goals. She completed three internships by the start of her senior year, including one with a local news station in her hometown.
"That experience provided me the knowledge and courage I needed to continue pursuing television," says McKenzie. Then, when it came time to establish connections for her post-graduation career, she says,"I did what most UMBC students do in times of career-related problems—I turned to the Career Center."
After polishing her resume and getting advice from the Career Center, McKenzie attended UMBC's Fall Internship and Career Fair in 2018 and sought out WBFF Fox45. This meeting led to an internship with BMORE Lifestyle, a lifestyle show that's part of the WBFF corporation. As McKenzie geared up to graduate in spring 2019, a production assistant position opened at Fox45—perfect timing for her next move.
McKenzie's current position requires a cool head, strong communication skills, and the ability to wake up before sunrise without hitting the snooze button. The morning news show she works on runs from 4:30 to 10 a.m. throughout the week. McKenzie is charged with keeping anchors aware of upcoming camera shots, running the teleprompter, and communicating with the control room.
The Career Center was an enormous help to McKenzie as she prepared to make the transition from intern to employee. "The support I was given throughout the entire process was incredible, and I am so lucky to have had such a smooth transition," she says.
In addition to receiving professional guidance from the Career Center, McKenzie also served as their social media intern, where she connected closely with her mentor Caroline Bodnar, assistant director for career development in the UMBC Career Center.
"Mentor, to me, doesn't necessarily mean someone you work alongside or shadow. I think it's someone you go to in times of need," reflects McKenzie. "Caroline is someone that I leaned on throughout my time at UMBC. She helped me navigate my way through career and intern ups and downs and provided meaningful advice."
"I've spent some time reflecting on my experiences as a Retriever. When I'm asked, 'If you could do it all again, would you?,' my answer is 'yes' every time," McKenzie shares. "UMBC truly became a home to me."
#2 Distinguish yourself by getting involved
Mamadou Diallo '19, mechanical engineering, took advantage of numerous professional organizations while at UMBC to help prepare himself for his future career. He was an active member of the National Society of Black Engineers, the American Society of Mechanical Engineers, and was a Mechanical Engineering S-STEM Scholar. When he began connecting with employers, this high level of involvement helped distinguish him among other candidates.
"My advice to other students is to be involved in extracurricular activities. After being hired [for my internship], I spoke with one of the recruiters as to why I was selected out of the many applicants. She replied that my involvement outside of the classroom were what stood out the most," says Diallo.
To find this dream internship, Diallo didn't have to go any farther than the Retriever Activity Center (RAC). At the annual Career Fair, he met with representatives from Regal Beloit and followed up through UMBCworks to secure his internship, which later led to a full-time engineering position.
As an engineering design and applications intern for a manufacturer of electric motors, Diallo worked to best meet the needs of customers. This included making recommendations to ensure pricing was fair and accurate, and tools continued to meet industry standards.
Diallo was able to boost workflow efficiencies at the company. Thanks to his strong track record as an intern, he was hired as a full-time application engineer prior to graduating from UMBC this past spring.
"UMBC was invaluable in helping me to secure my internship and career," says Diallo. "The Career Center helped me work on my resume and practice my interviewing skills, and reverse interviews allowed me to interview alumni and learn so many valuable lessons from them."
#3 Pursue your passions
A long way from her hometown of Albuquerque, New Mexico, Shannon Cole '18, biological sciences, works at the U.S. Food and Drug Administration (FDA) in Silver Spring, Maryland. As an Oak Ridge Institute for Science and Education (ORISE) fellow for the Center for Drug Evaluation and Research (CDER) Patient-Focused Drug Development (PFDD) program, she works to ensure that patients' voices are heard throughout the processes of developing and evaluating medical products.
As a UMBC student, Cole had a strong interest in public health, which led to internships with the Red Cross, the Institute of Fluorescence, and the ORISE program at the FDA.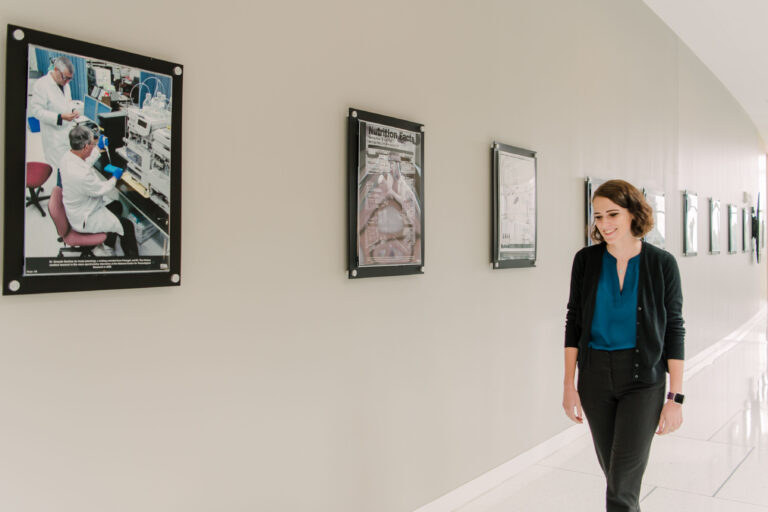 While she was working to advance her career with multiple internships, Cole was also greatly involved at UMBC. She was a Sondheim Public Affairs Scholar, a member of the Honors College, a Global Brigades participant, and a mentor with the Refugee Youth Project's College JUMP program, among others activities.
Cole took advantage of UMBCworks and the Career Fair to make connections and find internship and job opportunities. She also sought help from her professors and mentors.
"Jodi Kelber-Kaye, associate director of the UMBC Honors College, put me in touch with a contact from the FDA before I even knew about the ORISE internship," explains Cole.
This contact would later help Cole transition to her current position. Utilizing UMBC's Career Center, she was able to confirm that her resume was polished and professional, and she was presenting the best version of herself in interviews.
"The people I was fortunate enough to interact with regularly gave me helpful advice and access to resources that ultimately allowed me to tie all of these experiences together," says Cole.
#4 Take advantage of the Career Fair
When Erin Patrice '19 was deciding where to go to college, she chose to follow in her older brother's footsteps. Well, more accurately, she decided to run in them.
Older brother Randolph graduated from UMBC in 2015 as a financial economics major and an accomplished sprinter. Patrice followed the same path with the same major and the same love of running. Patrice's twin sister Kara also continued the family tradition, attending UMBC and pursuing biology while running.
Patrice feels her decision was an easy one, saying, "I chose UMBC because I wanted to attend a school that could create a strong base for me, academically and athletically, to build from."
Just like Patrice knew what she wanted out of her college experience, she also knew what she was looking for in an internship. "When I started my internship search, I was looking for an experience that would allow me to collaborate with individuals my age, and provide me with an environment where I could constantly be tested," she says.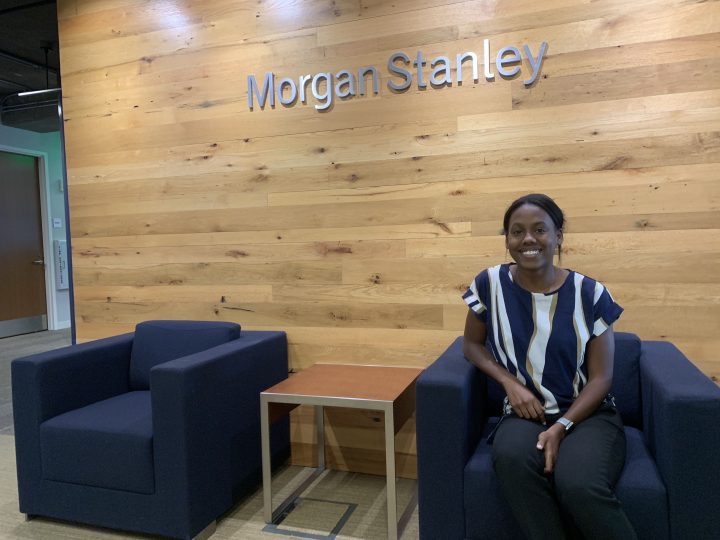 After networking at the Career and Internship Fair and uploading her resume through UMBCworks, Patrice secured a summer internship in fixed income derivative confirmation operations with Morgan Stanley. After completing the internship, Patrice was offered a full-time position as a trading operations analyst upon graduation.
Patrice credits the lessons she learned from both athletics and academics for her career success. "The skills I acquired while learning to handle athletics and the rigorous course load made my transition into working full-time very smooth," says Patrice. "I was able to prioritize my duties easily and allocate my time efficiently."
#5 Continue your work outside the classroom
As a computer science major, Chris Mills '19 figured out how to stand out from the crowd when vying for a position with one of the biggest names in technology: Google.
"I think what set me apart from other students (especially ones applying from big name schools such as MIT) was the amount of programming outside of class I did," he explains. "HackUMBC played a large part in my practical proficiency, allowing me to create a product from scratch, to utilize other people's libraries, and to work with other teammates on a singular project."
Mills attended on-campus career fairs and spoke with recruiters on-site to find an internship that best suited his interests. His goal was to work in a well-established business in the technology industry with a strong work/life balance and positive workplace culture. He was offered a position as a software engineer intern at Google for summer 2017 and returned the following summer to continue his work.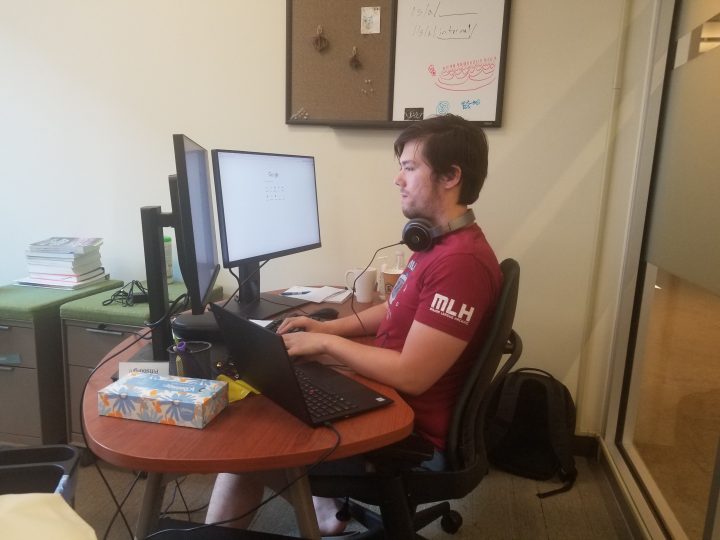 The coursework Mills completed while at UMBC benefited him greatly in his position at Google, he says. "In many of my required courses, the class lectures gave a good foundation of the theoretical knowledge, while the projects/homework showed practical applications that can and will be used in a software engineer's career," he explains.
Since Mills completed two Google internships, he was able to bypass the traditional interview process and start full-time at Google this past summer, immediately after graduation. Mills now works with the Google shopping team as a software engineer building solutions to reduce both latency and space of shopping data that is served to users.
#6 Build relationships with those around you
It was love at first sight when Priyanka Ranade '18, M.S. '19, information systems, joined the UMBC community.
"As soon as I stepped foot onto UMBC's campus, I could see that it replicated the world I wished to see around me," says Ranade. "The level of diversity, sense of community, as well as UMBC's clear repertoire of grit and support showed me right away that this was the community I wanted to learn in."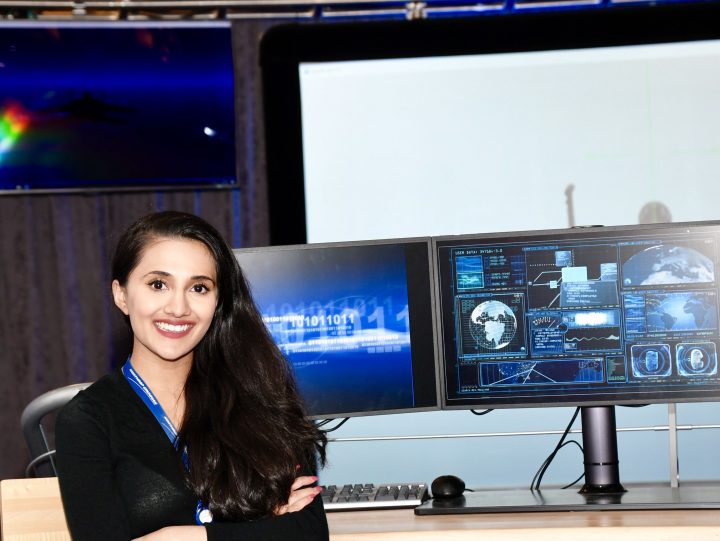 Ranade found an incredibly strong support system in her campus mentors: Anupam Joshi, chair and professor of computer science and electrical engineering; Karuna Joshi, information systems; and Cindy Greenwood, assistant director of the Cyber Scholars program. Ranade actually discovered her internship through an on-campus event through the Center for Women in Technology, a partnership with the Cyber Scholars Program.
"I knew I wanted to learn about cybersecurity issues beyond the undergraduate classroom level," she says. She actively sought out opportunities through networking, which led to an internship at Northrop Grumman. "Northrop Grumman gave me a big picture idea of cyber and allowed me to spend time in different parts of the company, as well as hear the experiences and journeys of other employees," Ranade explains.
To prepare for her interview, Ranade had her resume reviewed by UMBC's Career Center and took advantage of mock interview opportunities to be fully prepared. After a successful summer as a cyber strategy intern, Ranade's manager recommended her to the Pathways Program, one of three rotational programs at Northrop Grumman.
Ranade currently works in research and development doing machine learning work for military systems at Northrop Grumman. She credits the relationship-building skills she developed at UMBC for her success.
"Out of the many lessons UMBC has taught me, the most prominent one is the strong combination of sincerity in your work as well as fruitful relationships. Relationships are key in building your career," says Ranade. "Sharpening your skills is one thing, but having mentors who see your potential and guide you to greater heights than you could imagine is key."
Banner image: Shannon Cole at the U.S. Food and Drug Administration. Photo by Marlayna Demond '11 for UMBC. All other photos supplied by alumni unless otherwise noted.
Tags: Alumni, Biology, CAHSS, CareerCenter, CNMS, COEIT, CSEE, CyberScholars, Cybersecurity, Economics, HonorsCollege, MechE, SondheimScholars, Undergraduate Research