Hosted every five years by the UMBC Chapter of Black and Latino Alumni (CBLA), the Legends of Excellence Awards Brunch honors the achievements and contributions of faculty and staff who have made a significant impact on the lives of UMBC's black and Latino students. In the weeks leading up to this year's event, we'll be profiling each of this year's honorees here on our blog. Read on for today's bio…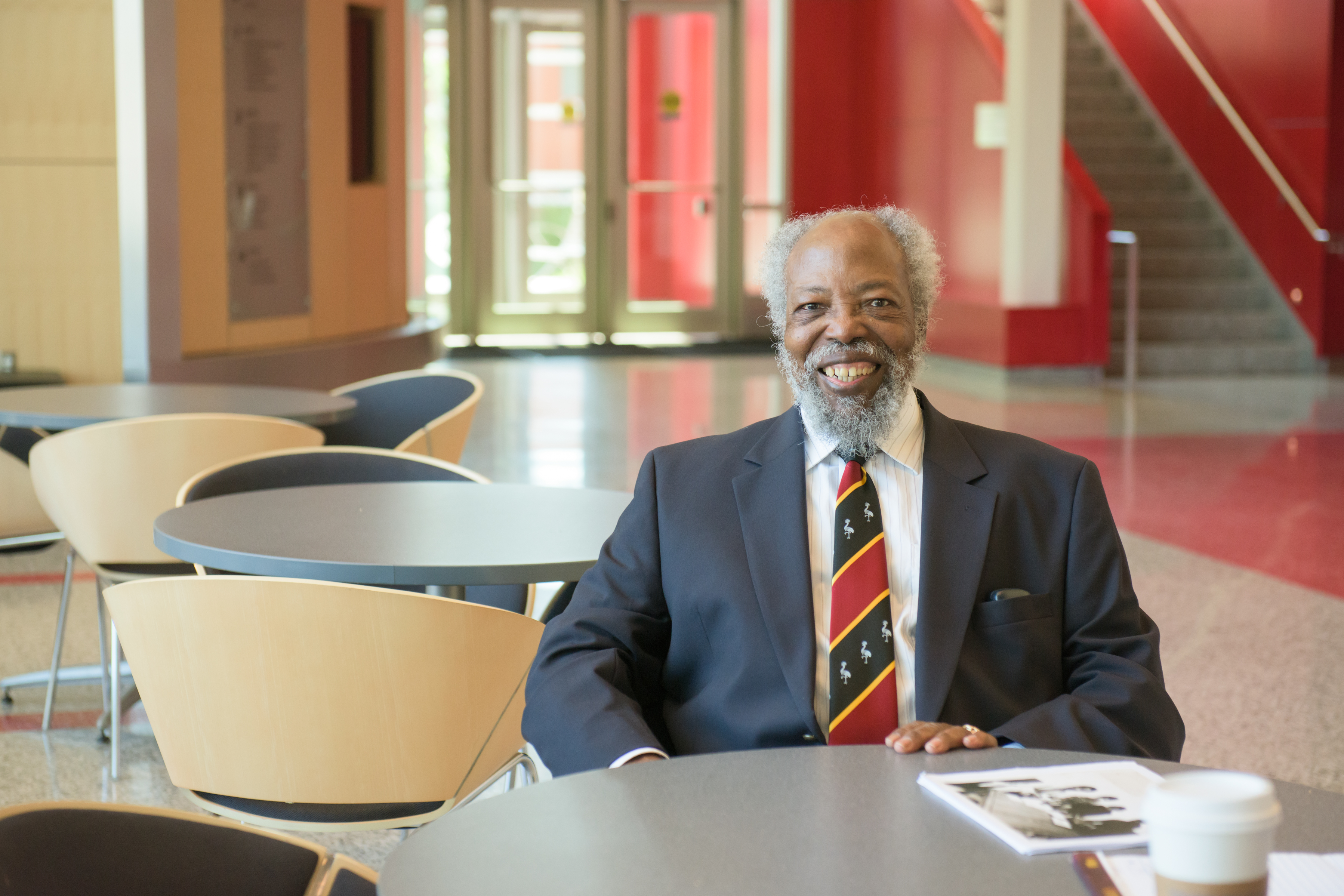 Dr. Willie Bediako Lamousé-Smith first arrived at UMBC in 1975 to direct what was then known as the Division of Afro-American Studies. As the university re-organized its academic structure, his role evolved along with it, as he became the department's first Chair. In his 33 years at UMBC, he established himself as both a key architect of what would eventually become the Africana Studies department, and a steadfast advocate for the students he taught.
Before coming to UMBC, Dr. Lamousé-Smith was the Associate Director of the Program of Eastern African Studies at Syracuse University's Maxwell Graduate School of Citizenship and Public Affairs, and had taught sociology at Makerere University in Uganda and the Free University of Berlin after finishing his Ph.D at Germany's University of Muenster. Throughout his academic career, his research focused primarily on the politics, demography, and economics of Africa and its diaspora, and he is the author of several influential papers on these subjects.
Given his expertise, he was instrumental in adding courses on the African diaspora to the program's curriculum, and also established the W.E.B. DuBois Lecture Series, which continues to bring distinguished scholars and activists to campus each year. In 1997, the department changed its name to Africana Studies to reflect its new focus, thanks in large part to his scholarship. He has also provided expert testimony on African affairs to the U.S. House of Representatives, the United Nations, and the Organization of African Unity, and co-authored the Africa Interactive Maps CD-ROM series. He authored the initial 200-page proposal for a master's degree in African-American Studies at UMBC, and served as the now-defunct program's chair from 1988 to 1991.
In addition to his stature as a researcher, Dr. Lamousé-Smith is also remembered by his former students as a dedicated teacher and mentor. "As a parent who did not spare energy or resources on the education of our children," he says, "I regarded all students in the frame of striving for quality education." Particularly in his first two decades at UMBC, he says, many of his students were the first in their families to go to college, and he saw it as a moral duty to guide them to their full academic potential. No matter what role he held in his department's administration, he remained a full teaching faculty member until his retirement in 2008.
He also says that one of his proudest moments, as an educator, was "standing by [minority] students, and standing up with them" in their fight for racial equality on campus. "While they could not have foreseen the consequential impact of their demonstrations on the campus for racial justice and equality," he says, "UMBC would not be what it is today but for them."
Register NOW for the Legends of Excellence Awards Brunch on Saturday, May 6!