Leadership Montgomery has selected Annica Wayman and Sunil Dasgupta, both of UMBC at The Universities at Shady Grove, to join the newest cohort of the Connecting Our Region's Execs (CORE) program. Wayman '99, M6, serves as UMBC's associate dean for Shady Grove affairs, in the College of Natural and Mathematical Sciences (CNMS), and Dasgupta is UMBC's program director for political science at Shady Grove.
As CORE participants, Wayman and Dasgupta will take part in monthly interactive sessions, network with other Montgomery County leaders, and visit unique county businesses to learn more about what makes "MoCo," as it is affectionately known, tick. They are the first members of the UMBC community to be selected since the program's inception in 1990, an indication of UMBC's growing presence in Montgomery County through the Universities at Shady Grove.
Supporting Montgomery County
"As UMBC looks to expand in Montgomery County and serve its residents, my participation in Leadership Montgomery will be instrumental," Wayman says. "Through Leadership Montgomery, I look forward to gaining a deeper knowledge of the issues facing Montgomery County. I will use that knowledge to develop higher education programs at UMBC-Shady Grove that effectively address the county's workforce needs. I also hope to make lifelong connections with other area leaders, so that together we can better Montgomery County."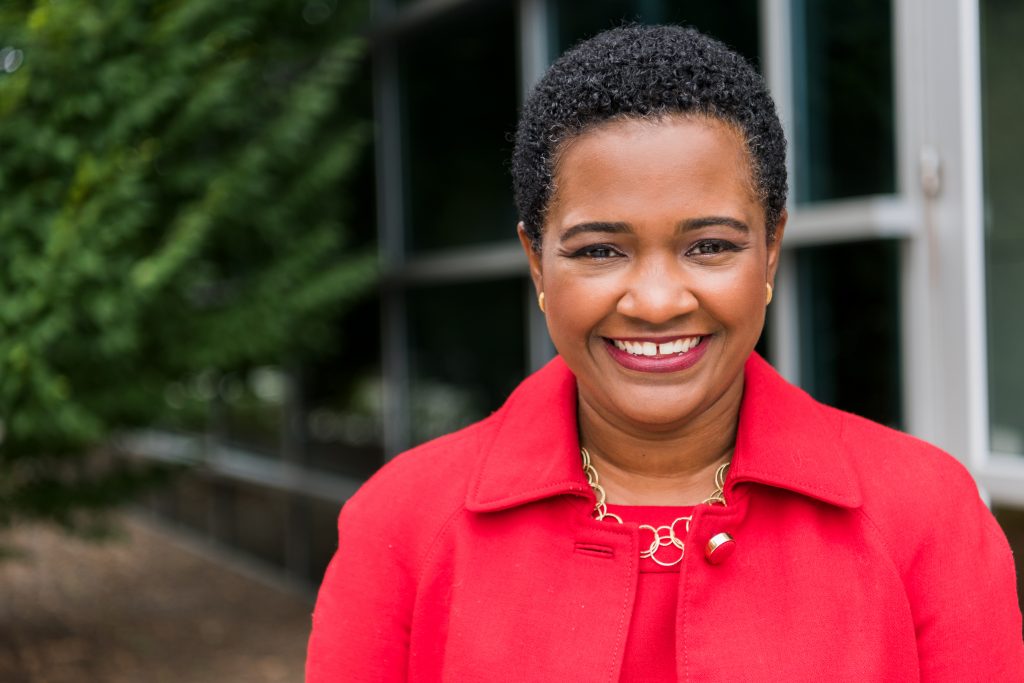 Wayman is already taking action toward these goals. She is spearheading the launch of the Translational Life Science Technology Program, a new CNMS bachelor's degree. This program directly addresses the needs of the region's thriving biotech sector, and will help local residents access the growing number of jobs in this field. She looks forward to introducing the master's of professional studies degree in biotechnology to the Shady Grove campus in fall 2019 and developing future programs.
"UMBC-Shady Grove in MoCo plays a critical role in the strategic vision of the college in supporting the Maryland economy and keeping our talent at home," says CNMS dean Bill LaCourse. "USG is an ideal location for this work due to its proximity to the cluster of biotechnology companies along the I-270 corridor and the high-quality public schools of Montgomery County."
LaCourse adds, "Dr. Wayman is a talented and experienced professional, and I am delighted that she has been selected as a member of the latest Leadership Montgomery cohort."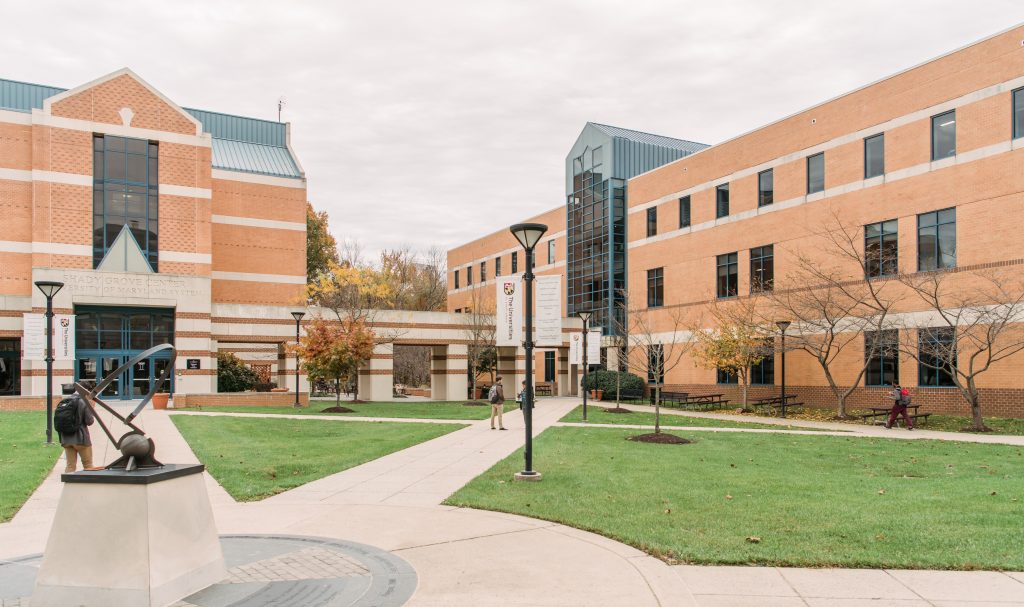 Serving students from all backgrounds
Dasgupta has committed himself to higher education at UMBC, and at Shady Grove specifically, because of the population of students the campus serves. When he joined UMBC in 2009, he says, "I saw an opportunity to build a program as part of an innovative university known to be at the forefront of what I like to call the democratization of higher education in America. It's an institution where a large number of students were first-generation college graduates, new immigrants, minorities, and from other groups traditionally not associated with higher education." Dasgupta shares, "I was excited to be making a difference."
And he has. For example, in addition to his courses, Dasgupta offers weekly Wednesday Wipeout opportunities for faculty, staff, and students at Shady Grove to gather for discussions of current events. It's not required for any class, but the room is always packed. It's a chance for community members from all backgrounds to discuss sometimes controversial issues in a civil format—a valuable skill for everyone. It's this kind of "above and beyond" effort that sets Dasgupta apart.
Dasgupta has also founded a non-profit, Conexion Escolar, that makes information ordinarily available only to English-speakers more accessible to speakers of Spanish, such as information about K-12 schools in the county. Multilingual college students use their skills to translate the materials. They make connections with families in local communities to help make sure they get the information they need. Conexion Escolar aspires to expand its language offerings in the future.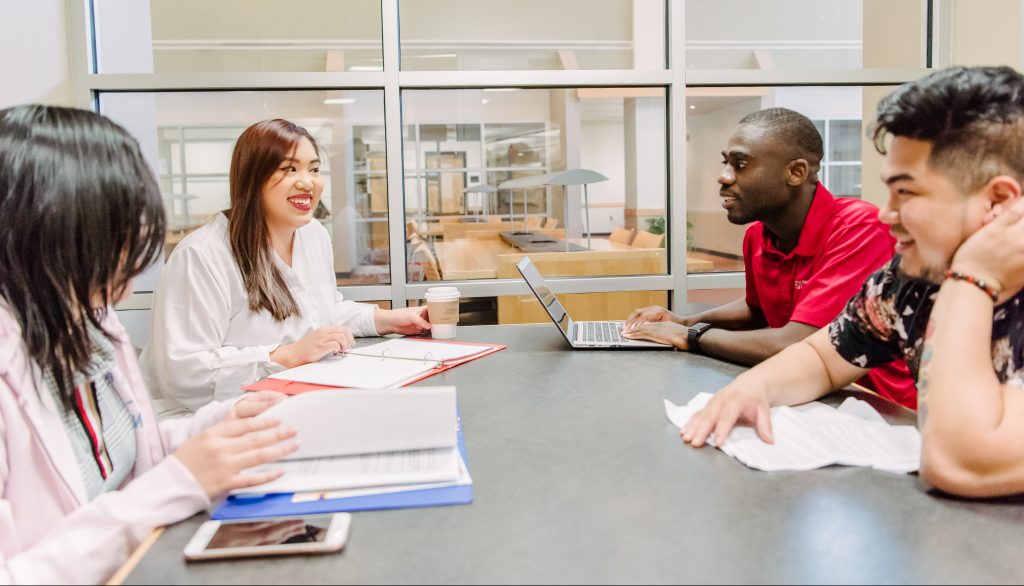 "For many years, Sunil Dasgupta has led our political science program at Shady Grove with inspiration and dedication," shares College of Arts, Humanities, and Social Sciences Dean Scott Casper. "He will bring wide-ranging experience to the Leadership Montgomery cohort, while developing valuable relationships that enhance our work in Montgomery County."
UMBC's very best
As the cohort kicks off its year of activities, Christopher Steele, vice provost for the division of professional studies, is thrilled for Wayman, Dasgupta, and UMBC. "We are so proud of Dr. Dasgupta and Dr. Wayman for being selected as members of the 2020 Leadership Montgomery CORE cohort program," he says. "We are hopeful that they are the first of many UMBC colleagues who will participate in this excellent civic leadership program."
Steele shares, "These two remarkable leaders perfectly reflect the fact that UMBC offers its very best to Montgomery County."
Banner image: Sunil Dasgupta, political science, with students at UMBC-Shady Grove. All photos by Marlayna Demond '11 for UMBC.
Tags: CAHSS, CNMS, MechE, PoliticalScience, ShadyGrove