As UMBC artists interpret the world around them through photography, music, and other media, the world is taking notice. In the last few months alone, a number of alumni artists have won prestigious awards to celebrate and nurture their work. Here, we take a look at three of them: Baker Artist Award-winning musician Lafayette Gilchrist '92, Africana studies; Julia Margaret Cameron Award-winning photographer Diana Nicholette Jeon, M.F.A. '06, IMDA; and UMBC professor Eric Dyer '95, visual and performing arts, an inaugural Merriweather District Artist-in-Residence.
Lafayette Gilchrist '92
As pianist and composer Lafayette Gilchrist plays, his fingers glide up and down the keyboard. As he tells Maryland Public Television in an interview celebrating the announcement of his Baker Artist Award this spring, "When it's working, and when it all comes together, it is a transcendent experience." Gilchrist, who in addition to his solo work leads two bands, has been wowing audiences near and far with his work for years, and was delighted to learn of the Baker honor, as it will help him continue to compose, perform, and record.
"I was surprised and honored," he said, "as a Baltimore-based artist laboring in the vineyards for quite a few years, often taking more losses than wins in order to keep the band afloat and get the music out. The award means a great deal to me because it's confirmation in many ways that it's been worth it."
Diana Nicholette Jeon, M.F.A. '06
When she learned she had won the Julia Margaret Cameron Award for photography this summer, Diana Nicholette Jeon said she was pleasantly surprised, but pleased to see her work among that of so many other fine women photographers (the focus of the award). Working from her home in Hawaii, she credits her time in the IMDA program at UMBC — and the professors she learned from — for broadening her skills and pushing her to explore new facets of her work. She describes her photography this way:
I use my work to process my emotions about a specific event or series of events, to give voice to those emotions so that others may "hear" them, too. Some comes directly from negative experiences in my personal life, such as my I, Orfeo project. Others comment on social, political and/or cultural issues, such as war, women's issues, or issues arising from living in a island paradise living off tourism and suffering from how others romanticize the islands and our peoples. Some of my work is considered more straight photo, and others are heavily manipulated, both on the iPad and with encaustic and traditional media on top of the print (the latter would be best represented by my Self-Exposure series.)

I believe the most interesting space in photography today is where the artist can combine digital techniques with hand-worked processes to produce one-of-a-kind works. I work in multiple kinds of media. I believe that materials have mana, so whenever possible I use the media that I feel lends the most meaning to any given project.
Nights as Inexorable as the Sea, Volume 3. (2017) Sculptural Book Object – iPhone photos, archival pigment prints on Hanhemuhle Baryta paper, Altoids tins bottoms, cold wax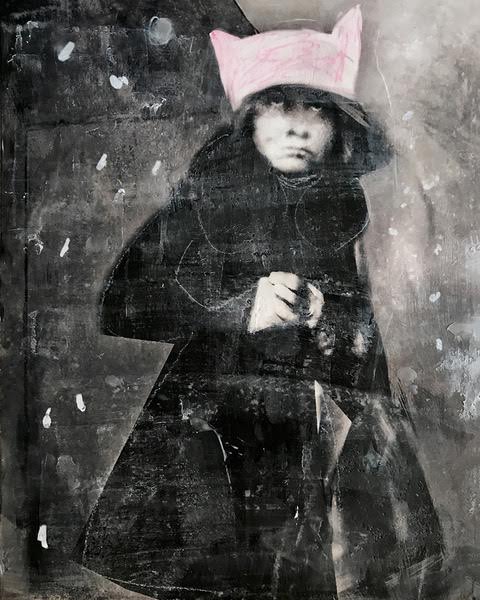 Resistance Girl (Self-Exposure series.) (2017) composited iPhoneography with iPad painting and drawing, pigment print on Hahnemuhle Photo rag Ultrasmooth, traditional drawing and painting with oils and pastels, encaustic media, cradled wood panel.
Eric Dyer '95
Through his work as a professor at UMBC, artist Eric Dyer helps budding artists understand that "animation is a young art form — there is so much more to explore and discover beyond traditional forms." And over the years — as well as recently with his Merriweather District Artist-in-Residence work — he has delighted and inspired people with his colorful multimedia zoetropes.
"I bring animation into the real world with my interactive sculptures. I've been collaging sequences of images and forms that are spun and come to animated life with the aid of a synchronized strobe light. I explore topics related to the history of the moving image, our relationship with technology, kinetics as a form of artistic expression, and the relevance of physical presence in an increasingly digital world."

Detail from Flora – a work-in-progress from Dyer's Merriweather District Artist Residency. It's a motion portrait of Flora Muybridge, the wife of Eadweard Muybridge, widely known as the Grandfather of Motion Pictures.
Implant (2015) 104"x56"x54", rotating sculpture covered in fabric, 3D prints, and laser-cut acrylic, viewable with handheld strobe-flashlight.
* * * * *
Learn more about arts and culture at UMBC.
Header image by Eric Dyer. All images pictured are the property of the artists.