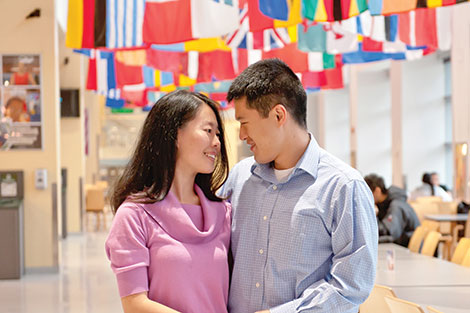 In the fall of 2003, Kevin Yang '07 computer science and financial economics and Katelyn Niu '05, biochemistry, found themselves in the same physics study group.
But their relationship began to bloom a year later, when a computer virus brought them together.
"Katelyn's computer was affected by a virus, and she called me for help," Kevin recalls.
He admits that he took his time fixing the computer problem, making several trips to Katelyn's place at Walker Avenue Apartments. "That gave us time to chat," he says.
Kevin and Katelyn also began bumping into one another more frequently in the dining hall. "I wasn't stalking her or anything, but I have a good memory and I memorized her schedule. I'd show up [at the dining hall] a little before she'd get there," he says with a playful grin.
While Kevin found the time in his full academic schedule to see Katelyn, her recollection of life as an undergraduate at UMBC is a little different.
"I was always so busy studying," Katelyn says, who earned a joint Ph.D./D.D.S. from the University of Maryland, Baltimore, after graduation.
Katelyn was eventually won over by Kevin's persistence. The couple married this past fall at the Center Club in Baltimore after a two-year engagement. They live in Ellicott City, a half-way point between Katelyn's commute to her dentist's office in Hagerstown and Kevin's position as an investment analyst at T. Rowe Price in downtown Baltimore.
While life as young commuting professionals is busy, Katelyn and Kevin stay connected to UMBC. She uses the pool on occasion; he plays tennis on the campus's courts. They volunteer their time at recruiting events for prospective students, and attend alumni events. They also see UMBC President Freeman A. Hrabowski, III and his wife, Jackie, from time to time.
"I was a Meyerhoff Scholar," says Kevin. "He was the founder. We've kept in touch ."
Tags: Baltimore, Baltimore County, Center Club in Baltimore, Downtown Baltimore, Ellicott City, Jackie Hrabowski, Katelyn Niu, Kevin Yang, Meyerhoff Scholar, Physics study group, President Freeman A. Hrabowski III, T. Rowe Price, umbc, University of Maryland, Walker Avenue Apartments