More and more U.S. states, from Texas to Maine, are increasing their capacity to produce fish for human consumption in land-based facilities. These operations are less susceptible to disease and result in fresher fish for locals. They also remove the risk of releasing waste or farmed fish to the environment, and reduce costs and the carbon footprint associated with shipping. Plus, they create jobs and help decrease American reliance on seafood imports.
Decades of research led by Yonathan Zohar, UMBC professor of marine biotechnology, have led the way for these paradigm-shifting developments. For example, he is the lead on a large grant from the National Oceanic and Atmospheric Association (NOAA) National Sea Grant program designed to build capacity for land-based Atlantic salmon aquaculture in the U.S. The effort, known as the Recirculating Aquaculture Salmon Network (RAS-N), is a public-private partnership that includes academic research institutions, federal labs, and industry partners from across the country.
Zohar conducts his work in the Aquaculture Research Center (ARC) at the Institute of Marine and Environmental Technology (IMET) on Baltimore's Inner Harbor. Work at the ARC pioneered many of the land-based aquaculture techniques now used around the country and the world.
Now, that work is coming back home.
A new take on "buy local"
AquaCon, a company led by Norwegian aquaculture leaders, is currently marshaling funds for a massive land-based Atlantic salmon aquaculture project based on Maryland's Eastern Shore. In phase one, the company will invest $300 million, and the facility will produce 15,000 metric tons of fish. By phase three, the investment and output will triple. And that's just for the aquaculture operation itself. The facility will also support job creation and economic development through affiliated industries, like seafood processing and distribution.
AquaCon executives visited IMET and the ARC in November 2019 and again in February 2020, and were struck by the many ways that UMBC, IMET, and AquaCon could work together to make the venture a success for everyone. When they toured the ARC, "They were very excited about our innovative aquaculture platforms," Zohar says, enthusiastic to see every feature. "Now I regularly communicate with the group to help them develop the design and biological planning for the Eastern Shore operation." 
UMBC and IMET executed an memorandum of understanding with AquaCon, stating their intentions to collaborate and how they will work together. In a recent announcement about the company's aquaculture vision, AquaCon specifically stated that UMBC and IMET were one major reason for their decision to select Maryland for their aquaculture operations. 
Staying on the forefront
"For a company like AquaCon, there is a huge amount of competition," Zohar says, "and the companies who are going to succeed are those who are at the forefront of the technology." That's another reason for AquaCon to choose UMBC as a strategic partner. "IMET will be in the new operation's backyard, so we can do sponsored research for them to keep them on the forefront of the field," Zohar says.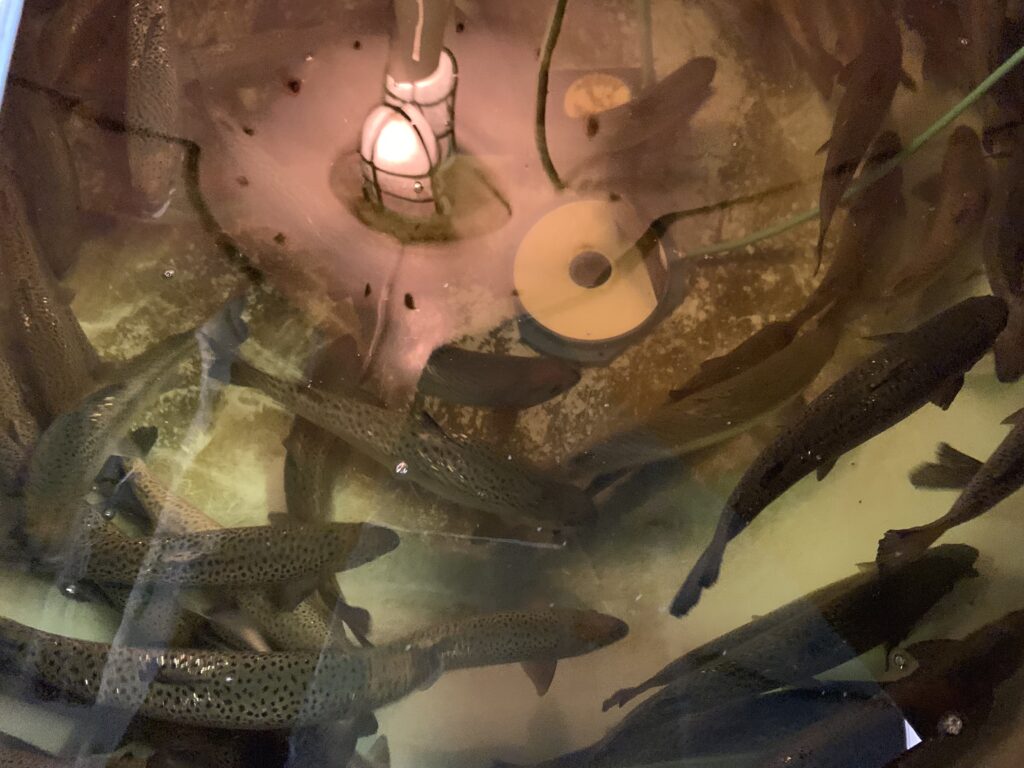 Workforce training is another critical element of the relationship. Tom Sadowski '89, political science, vice chancellor for economic development for the University System of Maryland, discussed opportunities with the AquaCon executives when they visited IMET. For example, students will likely get the chance to gain hands-on training at the Eastern Shore facility, and AquaCon could fund employees to pursue training and degrees through UMBC at IMET.
"Workforce development for this booming industry is a very important component to the NOAA-funded RAS-N consortium," Zohar says.
Filling in the missing link
One thing is inevitable in a land-based aquaculture facility, besides lots of fish: lots of fish poop. Kevin Sowers, professor of marine biotechnology, and Zohar have that handled, too. They invented a system to convert organic waste (affectionately known as "sludge") in the fish tanks to fuel-grade methane. This technology, abundantly tested and optimized at ARC and already scaled up in the Norwegian salmon industry, can generate enough energy to offset about 10 percent of the operation's energy costs.
The duo formed a company, Silfra BioSytems LLC, that will focus on improving and scaling up the waste conversion technology. They named the company after a pristine Icelandic lake to emphasize the result of the process—clean water. Their invention completes "this missing link for how you responsibly and biologically remove the huge amounts of solid waste," Zohar says, "And in the process, you generate biofuel."
The right model
On top of these developments in tech transfer, Zohar recently received a substantial National Science Foundation grant for his basic research on fish reproduction. The NSF fully funded the grant, which is for four years and a little over a million dollars. 
Zohar's basic research will influence the aquaculture industry, because if you can precisely control when fish do and do not reproduce, you can create a system where fish are constantly reaching market size. On top of that, fish that are not preparing to reproduce grow muscle faster and have immune systems that are more robust.  
The research could also have implications for human health. For various reasons, "Fish are one of the best reproductive models for humans," Zohar says. "You cannot even use rats or mice for this type of research. So it has a lot of interest from that standpoint as well." A better understanding of the causes of infertility, for example, could be on the horizon.
A perfect storm
For IMET and the ARC facility, "It's a perfect storm in a good sense, because everything is falling in place now," says Zohar. "I've been working in Maryland for almost 30 years, and we've been developing a lot of these technologies. Our mission is research, education, and economic development, and we have been working to create connections between academia and industry to fulfill that mission." And projects long underway are now bearing fruit.
Land-based aquaculture, in particular, has seen a huge rise in interest of late. "We've been working on this for 15 or 20 years. People said we were ahead of our time, but now things are happening," Zohar says. "Land-based aquaculture has matured. People believe in it, and it's going to develop at a large scale."
Banner photo: Yonathan Zohar at the Aquaculture Research Center in the Institute of Marine and Environmental Technology. Photo by Marlayna Demond '11 for UMBC.
Tags: CNMS, IMET, MarineBiotech, Research