At the fourth annual Cangialosi Business Innovation Competition, held on April 26, 2017, six finalists pitched their business ideas to a three-judge expert panel. The projects, selected from 33 contest entries, ranged from an innovative advertising platform to a solar-powered fresh water generator. The top three projects would receive a monetary prize, membership to BetaMore, and advice from members of the Baltimore Angels venture capital organization.
"The idea behind the competition," says Greg Cangialosi '96, English, a long-time supporter of emerging business innovators from UMBC and across the region, "is to enable the students who want to become entrepreneurs to have the opportunity to manifest their reality."
Mustafa Al-Adhami M.S. '15, mechanical engineering, leads GermoSense, which took third place. He proposed a device that can quickly detect the efficacy of antibiotics against sepsis, which causes more deaths than prostate cancer, breast cancer, and AIDS combined each year in the United States. The current protocol can take up to a week to detect antibiotic efficacy, while Al-Adhami's device would take only an hour. It's also less expensive and more convenient. Time is of the essence in sepsis treatment, as survival rates drop rapidly if it goes untreated. Al-Adhami completed his master's at UMBC's Center for Advanced Sensor Technology (CAST) and is now pursuing a Ph.D. in mechanical engineering at CAST, after working there for a year as a research scientist.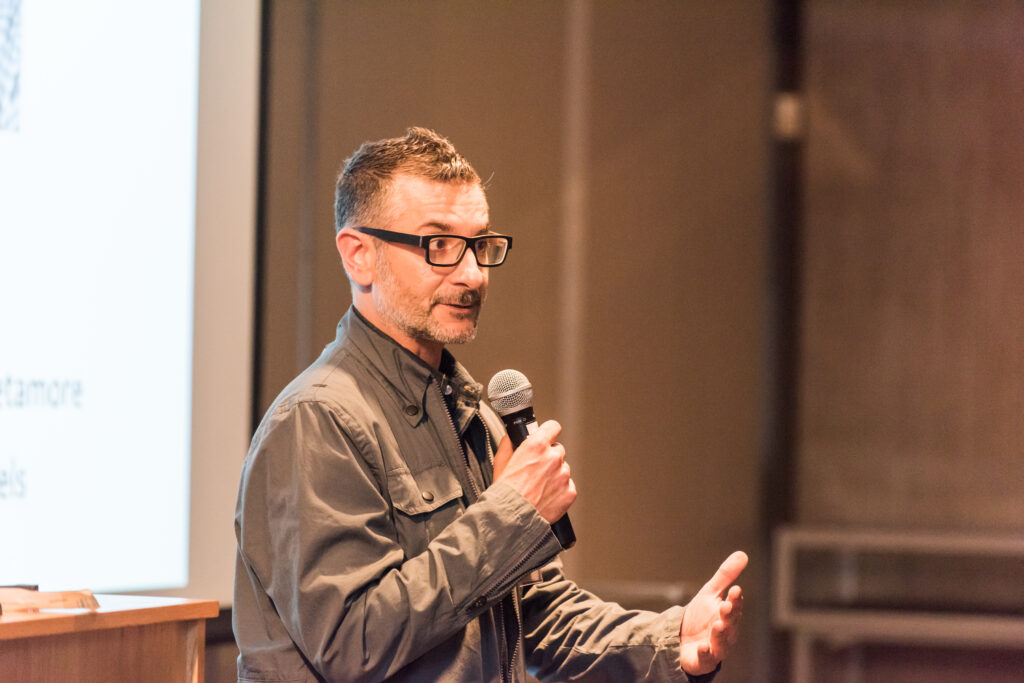 The four-person team behind Aerwell earned second place with a device that uses the principles of a dehumidifier to provide fresh water. About the size of a small doghouse, Aerwell uses solar power to run fans and takes advantage of near-constant temperatures underground to induce condensation. The team hopes to sell the device below cost in developing countries suffering from severe, long-term drought while turning a profit selling to microfarmers who want to use water-conserving farming techniques.
Noting that water stress is increasing worldwide, Christian Ingham '17, mechanical engineering, says, "We're really excited about how our technology could impact the world." Other team members include Elyse Hill, Hannah Corcos, and Ben Hallett, who are all also senior mechanical engineering majors.
Chris Bodan '18, psychology, and James Baker, who studied mechanical engineering at Cooper Union, won this year's competition with Aye-Aye, a device designed to provide a type of vision for people with vision impairments. It applies vibrations to a person's back that the brain can interpret to form images. The venture's first prototype involved a bike helmet and an XBox Kinect, but a second model the team demonstrated at the competition is much sleeker. The team plans to work with blind user testers and organizations that support the blind community to ensure Aye-Aye meets their needs, and to eventually seek FDA approval for the tool as an assistive technology. In the meantime, they hope to market it to gamers and explore other potential users, such as first responders who find themselves in low-visibility conditions like smoke or whiteout snow.
"This whole competition just allowed me to come out of my shell" and engage more with the campus community, Bodan shared, saying, "I'm really excited and inspired to work on this project."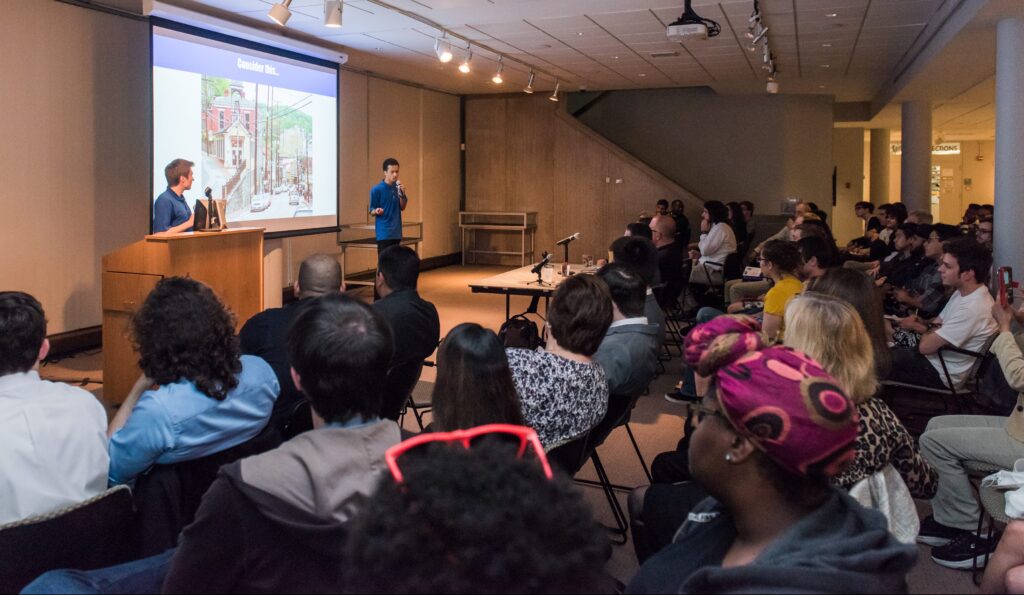 Markus Proctor '16, interdisciplinary studies, who won the competition in its first year, agrees that the positive effects of crafting and pitching entrepreneurial projects can extend far beyond a particular business idea. "I'm still leveraging the benefits of the CBIC experience four years later," he says. The program "puts the spark in education for students," Proctor says, and he believes it is "one of the best learning vehicles at UMBC."
Vivian Armor, director of UMBC's Alex Brown Center for Entrepreneurship, adds that while the program "targets students who are very serious about starting a business in the next year or so," she, Cangialosi, and program mentors "look at this as a learning opportunity for students." Armor thanked the mentors for "helping to develop the next generation of entrepreneurs."
The contest's additional three finalists included Laptop Buyers, by Fabrice Pani '18, information systems; Hilltop Apparel, by Mohammad Marzooghian '17, computer science, Peter Roberts '20, biological sciences, Sean Gawron '20, physics, Jamen King '18, biochemistry and molecular biology, and James Seeman '19, undeclared; and Advertuozo, by Igor Kuzmin '17, financial economics, and Nick Shields, computer science major at Howard Community College.
For Cangialosi, though, it wasn't just about the top finalists or who won the competition that day. He had a message for all participating teams: By simply entering the contest, taking a chance on submitting their ideas, they had already taken the first essential step to succeed as entrepreneurs. Keeping an eye on the future, he said, "Let's make things happen."
Banner image: Mustafa Al-Adhami '15, mechanical engineering, makes his case for GermoSense, which won third place at the CBIC on April 26. All photos by Marlayna Demond '11 for UMBC.
Tags: AlexBrownCenter, Alumni, Biology, ChemBiochem, CSEE, Economics, English, INDS, IS, MechE, Physics, Psychology