It's always a wonderful time to be a Retriever. After all, we have grit and greatness to spare. But now is also an especially amazing moment to break out the black and gold to cheer on UMBC basketball.
On Saturday, in its first America East playoff home game in a decade, the second-seeded UMBC men's basketball team hit back stronger than ever, after being down 11 points in the first half, to outscore No. 7 UMass Lowell, and come away with a decisive 89-77 victory. Thanks to this win, UMBC will host a semifinal round game versus No. 3 Hartford this Tuesday, March 6 at 7:30 p.m. at the new UMBC Event Center.
In honor of our mighty dawgs, UMBC Magazine presents our top five reasons why now is the perfect time to re-declare your love for UMBC men's basketball.
1. They're really, really good. Period.
This year marks the first time in three decades of NCAA Division I play that UMBC has posted 20-win seasons back-to-back. Now in his second year as head coach, Ryan Odom has created a squad that's confident and smart, both on and off the court.
2. Our president and star guard are BFFs.
That's right, according to the Baltimore Sun, UMBC President Freeman Hrabowski and senior guard Jairus Lyles M.A. '18, education, have formed a mutual admiration society, texting each other often. How adorable is this selfie? Photo provided by Lyles' mother, Carol Motley.

3. K.J. Maura is a certified rock star.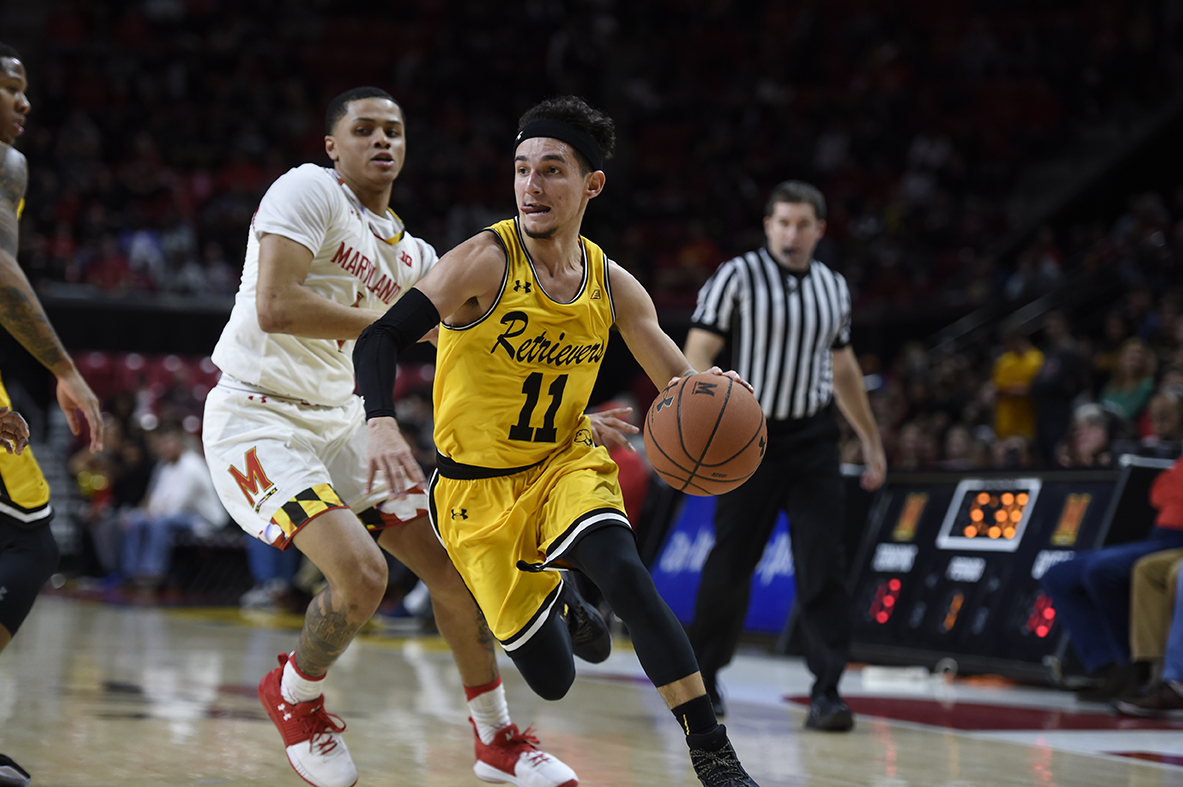 Days before the semifinal victory, senior point guard K.J. Maura '18, sociology, was named America East Conference Defensive Player of the Year. Ranked 29th nationally and second in the America East in steals per game, the Puerto Rico native is averaging 11.1 points per game, and generally tearing up the court wherever he goes. Photo by Gail Burton, UMBC Athletics.
4. Um, have you seen our new digs?

UMBC just opened a brand-new Event Center, home to UMBC basketball and volleyball. It's truly a DI-level facility, with room to host future Commencements and even large concerts. We can't wait to see the Class of 2018 toss their mortarboards in our new digs this spring!
5. This future Retriever knows what's up.
Seriously, there's nothing quite like the feeling of letting Retriever Fever course through your veins. UMBC basketball games are fun for all. We hope to see you in the stands soon! Video courtesy of staff member Mike Buccino.
Tickets for UMBC's America East playoff games are available via www.umbcretrievers.com or at the UMBC Event Center box office, with special discounted ticket prices for UMBC students, faculty, and staff.