As post-industrial cities in the United States across the Northeast and Midwest have experienced population decline and economic challenges in recent decades, many local governments are implementing policies to socially integrate immigrants in those cities to promote local economic development.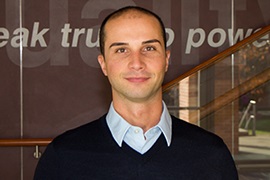 Felipe Filomeno, an assistant professor of political science and global studies, worked with students in his "Immigration Politics" course last year to conduct research on the impact of these policies, and they published an article in the National League of Cities blog CitiesSpeak summarizing their findings.
Filomeno and the students looked at a range of issues in post-industrial cities, including economic development policies, multicultural policies, law enforcement policies, collaboration with the civil society, and policy advocacy.
Focusing on Baltimore, the researchers found that the city has moved forward with several initiatives, including seed funding and technical assistance to the Latino Economic Development Center, which provides training and consultation for immigrant entrepreneurs, disseminating public information in Spanish and support for an annual Latino festival, and collaboration among the Mayor's Office of Immigrant and Multicultural Affairs and hundreds of community leaders and representatives from city agencies, social service providers and philanthropic organizations.
"A development-oriented inclusionary approach for immigration governance is consolidating in the rust belt. The task now is to monitor the implementation of those policies. In Baltimore, the number of immigrants increased 50 percent between 2000 and 2013, contributing to the first population growth the city experienced in decades. If other cities in the region share similar experiences, the 'rust belt model' might start to inspire higher levels of government and cities in other areas," Filomeno and the students concluded.
The article "Immigrants and Urban Revival in Post-Industrial America" received widespread circulation and it was published in The Weekly, The National League of Cities' official newsletter, which reaches more than 15,000 local elected officials and their staff, and the Illinois Municipal League magazine, as part of its issue on cultural diversity. The article was co-authored by Filomeno and undergraduate students Arielle Erenrich '15, global studies and English; Edward Sauer '16, political science; Emily Wigfield '16, social work; Estelle Bol '15, biology and political science; Danielle McGrogan '17, global studies; Samuel Damesa '16, global studies and political science; Charles Brother '15, history and political science; Ghislain Tapsoba '16, global studies; and Richard Coaxum '15, political science.
Image: Baltimore Skyline from I-95 south. Photo by Marlayna Demond '11. 
Tags: CAHSS, GlobalStudies, PoliticalScience