When the time came to start her college career, Sondheim Scholar Viviana Angelini '21 traded in the palm trees of Florida for all things Baltimore at UMBC. She had taken some classes at a local community college in Florida while a homeschooled high school student, but starting at UMBC was a very different and exciting experience.
"It was pretty amazing to go from studying literature at home and having small classes, to then come here and see all the students and all the academic buildings," says Angelini. "When I did a campus tour, two things stuck out to me the most and made me feel like I was where I belonged: walking into the Commons and seeing all the international flags and walking underneath all the trees on Academic Row and feeling the sense of community and excitement about learning."
She felt inspired to make the most of her UMBC experience from day one, eventually adding three minors (international politics, Russian, and music) to her political science major and pursuing internships that had a huge impact on her college experience and her career trajectory. While her individual path was unique, the way she was able to pursue opportunities beyond the classroom, putting her knowledge into practice, is a classic UMBC experience.
Connecting with opportunities
Angelini's first internship, for two summers, was with Congressman Gus Bilirakis who represents her home district in Florida. She reviewed and analyzed legislation and attended media briefings about military strategy, freedom of the press, and other topics. One highlight, she says, was writing a speech for the congressman to deliver in the House of Representatives about Canadian/American relations.
While this foray into politics piqued her interest, her career goals were further solidified after meeting James Clapper, former director of national intelligence. They connected at a speaking engagement at UMBC and Clapper suggested she apply for an internship with the U.S. Department of Defense. Angelini soon found herself packing her bags again, this time to head to Nebraska for her first position in intelligence.
Defining her path
"I spent the summer working in support of U.S. national security," she says. "It was an amazing experience, bringing together everything I learned at UMBC and applying it to the real world."
To further broaden her professional portfolio, Angelini traveled to Colorado the following summer to continue work for the Department of Defense, this time with NORAD and U.S. Northern Command.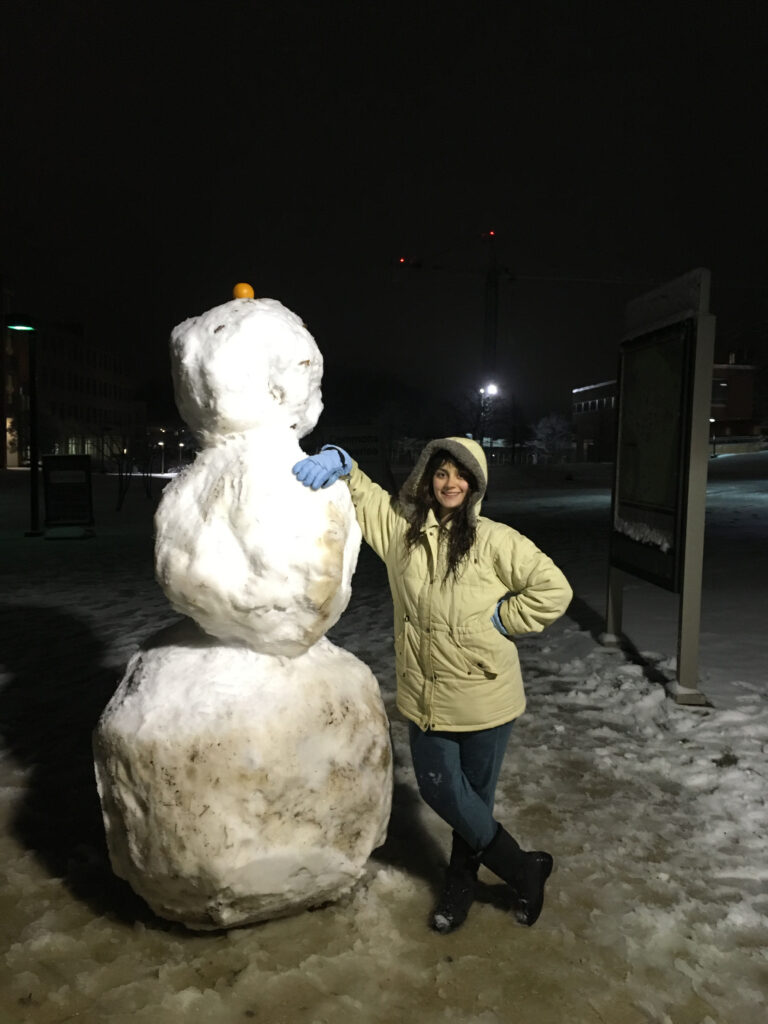 Since September 2020, Angelini has been interning at Fort Meade, authoring reports for the National Security Agency. After graduating, she'll attend George Washington University as a graduate fellow as she works towards a master's in security policy studies with a concentration in conflict resolution.
To students starting their journey at UMBC, Angelini suggests, "Say yes to any opportunity. You don't know what kind of doors it will open or how it will come back to benefit you in the future. Almost every experience you have in undergrad will help you in the future, either professionally or personally."
Making the data work
If someone asked you to determine how many people had food-producing gardens in Portland, Oregon, where would you begin? Travis Twigg '19, geographic information science, and M.P.S. '21, data science, encountered this question during an undergraduate internship in 2018 with geography and environmental systems (GES) at UMBC, and the possibilities that came to mind intrigued him. "I was working with my professor, Dillon Mahmoudi, to try and determine access to healthy food, so I trained a model to do object detection on satellite imagery to find the gardens," he says.
Working with Mahmoudi had such an impact on Twigg that after graduating with a bachelor's degree, he enrolled in UMBC's data science graduate program. He'll earn his master's degree this week.
Through internships, Twigg has tackled a broad range of questions related to analyzing maps and satellite imagery. In the summer of 2020, he built upon the machine learning work he began as an undergrad and accepted an internship at NASA Goddard Space Flight Center. He worked to develop a model to distinguish clouds from smoke in satellite imagery. When smoke is too heavy, NASA's internal operation erroneously mistakes it for clouds and crops it out of the images entirely, causing a cascade of problems. His model was trained to correct the error.
Learning from COVID-19
Twigg also interned as a researcher with the Johns Hopkins Applied Physics Laboratory, where he worked with a team of seven other students across the country to model COVID-19 dynamics.
"This was early summer 2020, so there was a lot of data coming out, but people still weren't sure how bad the pandemic was going to get—if there was going to be one wave, two waves, et cetera. So, we were trying to create a model to predict that," says Twigg.
His team also looked at sentiment analysis on Twitter to map the relationship between residents' political preferences and how they were responding to different state guidelines across the U.S.
Building relationships, experience
A first-generation college student, Twigg wasn't always sure what his path was going to look like. He graduated with his associate's degree in mathematics from Frederick Community College and then continued his studies at the University of Maryland, College Park. Still uncertain how he wanted to proceed, Twigg made the decision to take a break from his education and accept a position as a business manager for nearly a decade.
The time away from his studies gave him the opportunity to reflect on what he ultimately wanted in a career. In 2016, he enrolled at UMBC, ready to complete his degree.
Twigg learned valuable lessons along the way and would advise new Retrievers to "show up, get involved, and network," including exploring hands-on internship opportunities. "When you're done with school, employers will care most about the relationships you have been able to build and the experience you've gained, and the first step of that is just showing up."
Next, Twigg will complete a master's in data analytics at Georgia Institute of Technology.
Hitting the ground running
When Luke Matthews '21, financial economics and political science, initially chose a college, he says, "I didn't really take into consideration how much the school really feeling like home mattered to me." But he soon realized how important diversity would be to his experience, and he chose to transfer to UMBC in search of a sense of community."UMBC is incredibly diverse and I think that's the thing I love most about it," he shares.
He hit the ground running at UMBC, securing the first of five undergraduate internships. In his sophomore year, Matthews worked with the Baltimore Minority Business Development Center. He helped minority business owners secure funding, including searching for government contracts and providing support to help them win those contracts.
"It was a small team and I was given a lot of autonomy to try different approaches and lead things at such a young age," says Matthews. "It was really interesting and I enjoyed it."
Trying something new
His next opportunity, as a quantitative research intern at the Johns Hopkins Bloomberg School of Public Health, was a departure from what he had envisioned for himself. "I was trying to work for a large investment bank as a sophomore, but I didn't get accepted at any of the places I applied," says Matthews. "I figured I could either pout about it or find something else, so I found something else with the help of my statistics professor and Christine Routzahn, director of the UMBC Career Center. It turned out to be one of the most enriching experiences ever."
He was able to publish research, make connections at Johns Hopkins, and spend the summer living on his own for the first time. In addition to the personal growth it afforded him, Matthews shares that in interviews since then, employers have been intrigued by his real-world experience with biostatistics.
Back to the plan
Matthews got back onto the financial path with his next internship at Facet Wealth, a start-up company looking to revolutionize the financial planning industry. The company was fully virtual, and although the internship ended in January 2020, it offered a timely preview into what the following year would be like. Matthews was able to help build models to inform business decisions and corporate operations.
In summer 2020, before his senior year, Matthews finally landed his dream internship at Bank of America in the investment banking division. It was a perfect fit and ultimately led to a job offer awaiting him after graduation.
To further sharpen his skills before graduating, Matthews took a final internship senior year at T. Rowe Price in Baltimore as a fixed income research intern. The position had him speaking directly with portfolio managers about how to allocate money for investment opportunities. The experience offered an opportunity to "become more persuasive and a better speaker, and really hone my rhetorical abilities," Matthews says.
Next steps
As he prepares to move on to a full-time role in investment banking, Matthews thinks about the supporters at UMBC who helped him access opportunities, particularly Routzahn and her team at Career Services. Like Angelini and Twigg, he advises students to be bold in reaching out for help and guidance. "Almost every internship I had is because of the Career Center."
Whether you're a commuting student or live on campus, a transfer student or have been at UMBC from the start, he says, there are people at UMBC to help you start and grow your career.
Banner image: Viviana Angelini in front of international flags in the UMBC Commons. All photos courtesy of students unless otherwise noted.
Tags: CAHSS, CareerCenter, ClassOf2021, COEIT, DataScience, Economics, GES, PoliticalScience, SondheimScholars