When her courses moved online in mid-March due to the coronavirus pandemic, Sammie Maygers '20, chemical engineering, knew staying connected with her UMBC community would need to be a top priority. In some ways, her experience changed substantially. But it was also a continuation of the same UMBC journey, powered by community support.
When Maygers was looking at colleges, she knew that UMBC was the place for her as soon as she heard about the Center for Women in Technology (CWIT) from a high school classmate. When she visited campus, she says that it instantly felt like a family. "UMBC feels like home," she says. "It's inclusive."
CWIT appealed to Maygers because it meant having a network of peers to work with and rely on. Her connections with new friends and mentors started the summer before her freshman year and continue as she heads toward graduation.
"One thing that CWIT does that is really fantastic is they send you on a retreat before the school year starts, with all of the new scholars," she explains. "So when you move in, you've pretty much met all of the people who live on your floor. Even once people got busy, we were always doing work together and I had people who I could really trust." 
Growing as a leader
Working to build and strengthen this community are dedicated CWIT staff. Maygers shares that Erica D'Eramo, assistant director for the CWIT Scholars Program, has been especially impactful on her UMBC experience, including helping her grow and develop as a leader. 
"Sammie has an enthusiasm and passion that is contagious," says D'Eramo. "She has been a mentor to many students—as a 'Big Wit' peer mentor in CWIT, and in her Frisbee family, too. So many times I have heard students tell me how amazing it has been to have Sammie as a guide and, more importantly, as a close friend they can rely on." 
Each incoming CWIT scholar is paired with an older student who is also a part of the program. As students move through the program, they become mentors to incoming scholars. Now a graduating senior, Maygers now has a "family" of younger scholars as well as alumni, and they connect regularly.
To sustain and grow these relationships during the pandemic, Maygers says that it is more important than ever to connect with her CWIT community outside of online classes. She intentionally sets aside time to virtually hang out with her mentees, friends, Chem-E-Car teammates, and classmates, including game nights. 
Community through student orgs 
The format of her classes this semester is helping Maygers stay connected during this difficult time. Most of her current courses are presentation-based. She and her classmates had previously been meeting virtually to develop their presentations, so that work has held steady. 
Other changes have been harder to adjust to. Maygers is a member of UMBC's Chem-E-Car team, which builds and races vehicles powered by precise chemical reactions. The team was heading to a regional competition at Virginia Tech this month, but that's no longer happening. 
"I've put a year and a half of work into the Chem-E-Car team, and I'll never see it through," Maygers says. She finds herself "mourning the things I was expecting to come."
Another activity that has proven challenging for Maygers to carry on with is ultimate frisbee, but her close connections to teammates remain strong. In high school, she was a three-sport athlete, and it was important to her to find a way to stay active in college. Soon after arriving at UMBC, she learned about the ultimate frisbee club team from an older student in CWIT. Although practices are cancelled, UMBC's ultimate frisbee team has held informal virtual meetups every week. 
Virtual connections
Intentionally maintaining all these connections has helped Maygers stay centered and motivated. One day that could be an online coffee with a friend. Another day it could be an online board meeting of the American Institute of Chemical Engineers, UMBC chapter.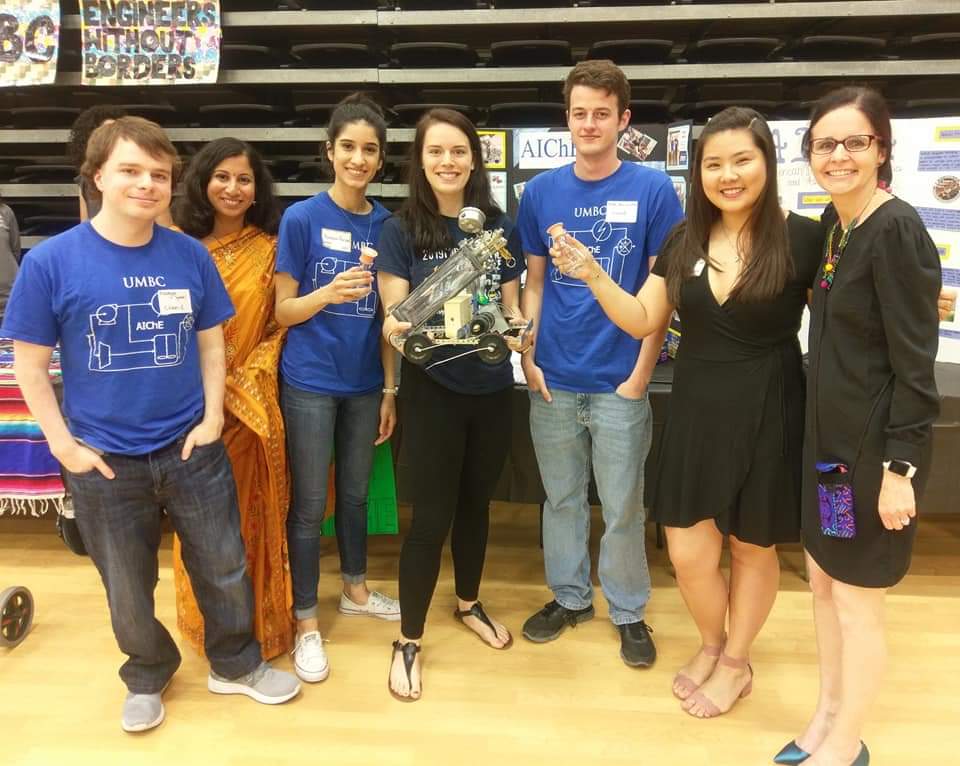 Maygers is also continuing her work as a teaching fellow in Mark Marten's chemical engineering kinetics course. "Being a teaching fellow has given me the opportunity to support students academically and personally. The course load of a student taking this level of chemical engineering courses can really be overwhelming, and I love helping students realize that making mistakes and failing helps them grow as an engineer."
Maygers has conducted research alongside Marten, professor and chair of chemical, biochemical, and environmental engineering, since fall 2016. One of the most powerful lessons she's learned from working with him is to be unafraid of learning new skills and making mistakes. This is one of the core messages she works to pass along to both students in the course and younger CWIT scholars.
Thoughtful engineering solutions
Maygers now has her eye on her steps after graduation, and who will be walking those steps with her. She will have a unique opportunity to continue working closely with friends from UMBC after she graduates this spring. 
As she has moved through the chemical engineering program, Maygers has become passionate about developing thoughtful engineering solutions. For her, this means solutions that are environmentally conscious and energy efficient. She looks forward to pursuing this passion as an engineer at the Naval Surface Warfare Center (NSWC) near Bethesda, Maryland. 
She and classmates Laina Colony '20, chemical engineering, and Zach Voelkel '20, mechanical engineering, learned about opportunities at the NSWC through a trip organized by UMBC's Career Center. Not only were they all offered positions at the NSWC, but Colony and Maygers will have a chance to work together on the same team and be roommates, along with Voelkel.
A community of support welcomed Maygers to UMBC before she started classes freshman year. She thoughtfully grew that community during her time as a Retriever. Now, she'll carry it with her to the next stage of her life and career.
Banner image: Sammie Maygers, right, with her roommates on campus. Photo courtesy of Maygers.
Tags: CBEE, ClassOf2020, COEIT, CWIT