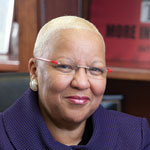 In an office on Chase Street in Baltimore, a fiery one-woman pep rally for a young African-American professional is under way.
Diane Bell-McKoy '73, sociology, is holding forth on the necessity of building as many business alliances as this young woman can, regardless of whether or not she knows precisely where her career is headed. Bell-McKoy is emphatic for a reason. She is determined to see young African-American professionals succeed in the workplace. And she knows first-hand that the strategy she espouses works.
Bell-McKoy credits her long-term career success with her own ability to choose mentors carefully and to build business relationships. Judging by her resume – which includes a stint as a senior fellow at the Annie E. Casey Foundation, a 10-year tenure as president and CEO of Empower Baltimore Management Corporation, and her current position as president and CEO of Associated Black Charities (ABC) – it's fair to say the tactic has proven effective.
"I would not be where I am today without a host of mentors. I learned early on to go after them," says Bell-McKoy, who counts former Baltimore Mayor Kurt Schmoke; acclaimed developer James Rouse; and Joseph Haskins, Jr., President and Chief Executive Officer of Harbor Bank of Maryland as some of the many professionals who have guided her career.
Bell-McKoy has always had a knack for making alliances with like-minded thinkers. She found plenty of them at UMBC. Bell-McKoy notes that many of these peers in her time at UMBC later went on to make up the 'Who's Who' of local African American professionals, including David W. Young '74, sociology, associate judge for Baltimore City Circuit Court and James Wiggins '75, political science, a lawyer in private practice.
"They [the university's administration] referred to us as the UMBC Mafia," Bell-McKoy recalls with a wry smile, explaining that she and her college friends were not averse to challenging the administration when they wanted to effect change on campus. "My friends from UMBC were a great source of support, and provided lots of conversation about issues," she says.
Conversations in the classroom fed those in the dormitory and beyond. "UMBC helped me develop critical thinking skills," says Bell-McKoy, adding that UMBC was the first place she attended where learning to problem solve came from critical thinking and deconstruction of issues.
It is on these premises that Bell-McKoy has advanced her career. Most recently, that growth has taken shape at ABC, a 25-year-old public foundation in Baltimore that seeks to close the gap in economic and health disparities among Maryland's African-American communities, thereby boosting the entire state's vitality.
Bell-McKoy admits she eyed the job of president and CEO of ABC for quite some time, but doesn't regret waiting to take the top spot there. "I have developed a huge set of relationships in this region," she says. "I needed those relationships to move this organization forward."
Since taking the reins at ABC four years ago, Bell-McKoy has used her vision and connections to shift the foundation away from its origins as a direct service provider. "It's much more effective to be a broker, a grant maker, a public policy advocate," she says.
Bell-McKoy also narrowed the foundation's focus, shaving it down from a broad swath of issues concerning African-American communities. "Our two core focuses now are health and wealth disparities. We need to close those gaps to have a vibrant state," Bell-McKoy says.
One of ABC's primary wealth-building initiatives, dubbed More in the Middle, seeks to retain, grow, and attract middle-income African-American residents throughout Maryland. ABC is concentrating on five core investment areas: higher education, workforce development, homeownership and foreclosure prevention, business and economic development, and asset building.
Of these investment areas, ABC is honing in on workforce development at present. ABC is choosing up to ten area African-American-owned businesses it sees as potentially prolific job engines as pilot companies, which it will then pair with larger more established organizations which will act as mentors. It's a chance for Bell-McKoy to adapt her personal reliance on relationship-building and mentoring to a larger stage.
One might think that after 35 years of forging business relationships of her own, Bell-McKoy would be ready to think about retirement. So what keeps her in the fray? Bell-McKoy responds candidly: "I have to make sure I develop a pipeline."
— Elizabeth Heubeck '91
Tags: Winter 2011