Vocal Duets: Seyoung Jeong & Min Sang Kim
Date:
March 16, 7:30 pm

-

9:30 pm
Location: Earl and Darielle Linehan Concert Hall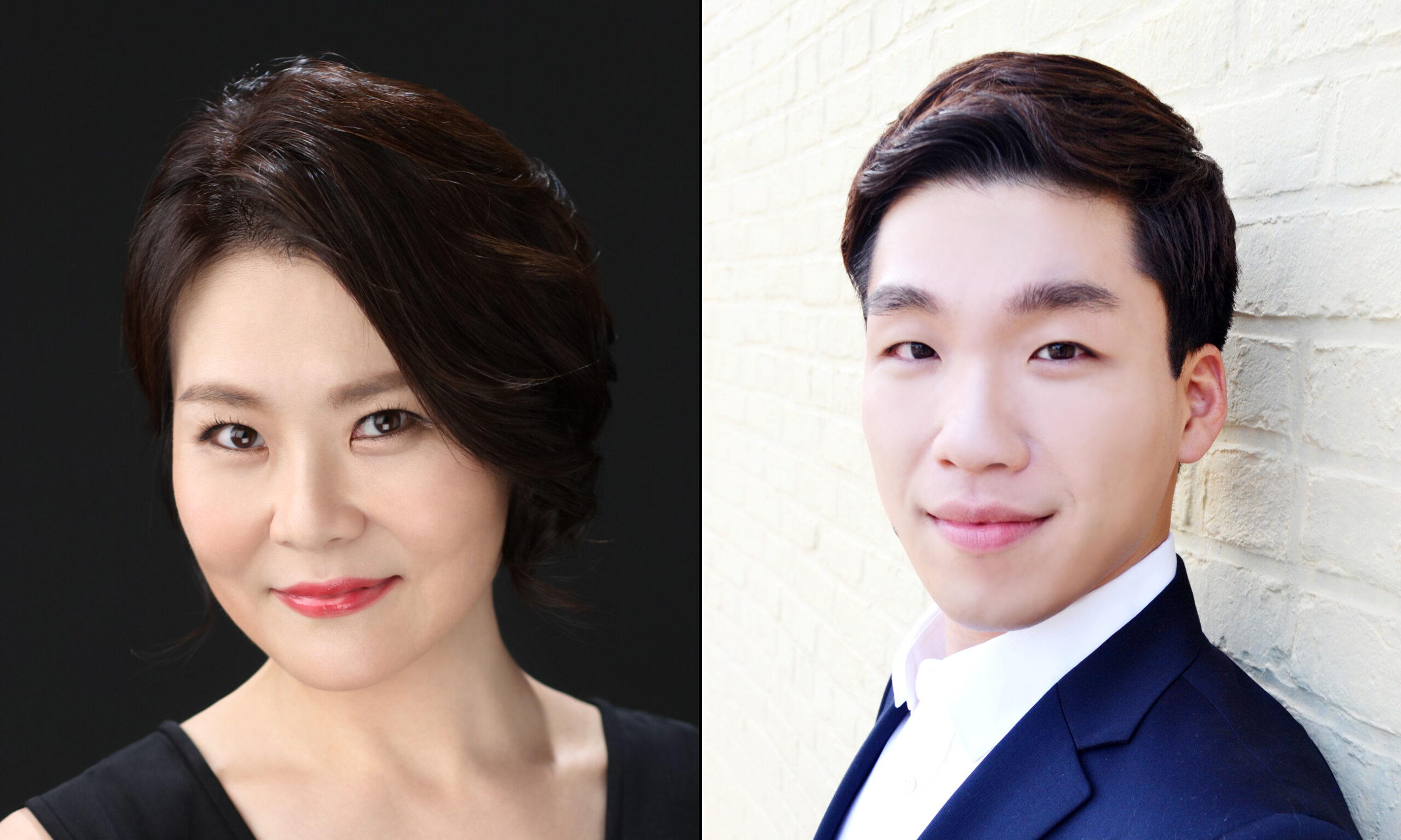 The Department of Music presents an evening of vocal duets and solos, sung by soprano Seyoung Jeong and countertenor Min Sang Kim, joined by pianist Ka Nyoung Yoo. Their program features works by Rossini, Donaudy, Ravel, Mendelssohn, Delibes, Gounod, Quilter, Gustavino, and Brahms:
Rossini: Qui tollis from Petite Messe Solennelle
Donaudy: O del mio amato ben, Amorosi miei giorni, Vaghissima sembianza
Ravel: Cinq melodies populaires grecques
Mendelssohn: Sechs Lieder, Op. 63
Delibes: Les trois oiseaux
Gounod: Par une belle nuit
Quilter: Three Shakespeare Songs, Op. 6
Gustavino: La rosa y el sauce, Pampamapa, La tempranera
Brahms: Vier Duette, Op. 61
Soprano Seyoung Jeong is on the voice faculty of UMBC and the Catholic University of America. Outside of the school, she is the president of nonprofit arts organization, ProVoce Washington, and the choir director at Virginia Presbyterian Church in Alexandria. Previously, she was an assistant professor at NVCC and opera coach at George Mason University. She has performed the role of Mimi in La Boheme by Puccini with Villa in Canto Opera in Recanati, Italy, Countess Almaviva in Le Nozze di Figaro by Mozart with New York Lyric Opera and Eastman Opera, and Angelica in Suor Angelica by Puccini with Bel Cantanti Opera, Singer's Theatre of Washington, and Eastman Opera.
Praised for his "unusually ethereal and powerful voice" on the operatic stages, countertenor Min Sang Kim has performed numerous leading roles. In addition to the operatic stage, he has performed with the Baltimore Symphony Orchestra, Washington Bach Consort, Balance Campaign, Dolce Contento Ensemble, American Bach Soloists, Washington National Cathedral Choir, "The President's Own" United States Marine Chamber Orchestra, Washington Concert Society, Peabody Renaissance Ensemble, Peabody-Hopkins Chorus and Daegu Orchestra among others.
Ka Nyoung Yoo received her master of music degree and graduate performance diploma in ensemble arts/vocal accompanying from the Peabody Institute of the Johns Hopkins University, where she studied with Eileen Cornett. She is an active piano teacher and accompanist throughout Maryland area.
---
Admission is free, and tickets are not required.
---
Earl and Darielle Linehan Concert Hall is easy to visit, with plenty of free parking. Please visit here for directions and parking information.
Related Events