Trouble in Mind by Alice Childress
Date:
November 3

-

November 13
Location: Proscenium Theatre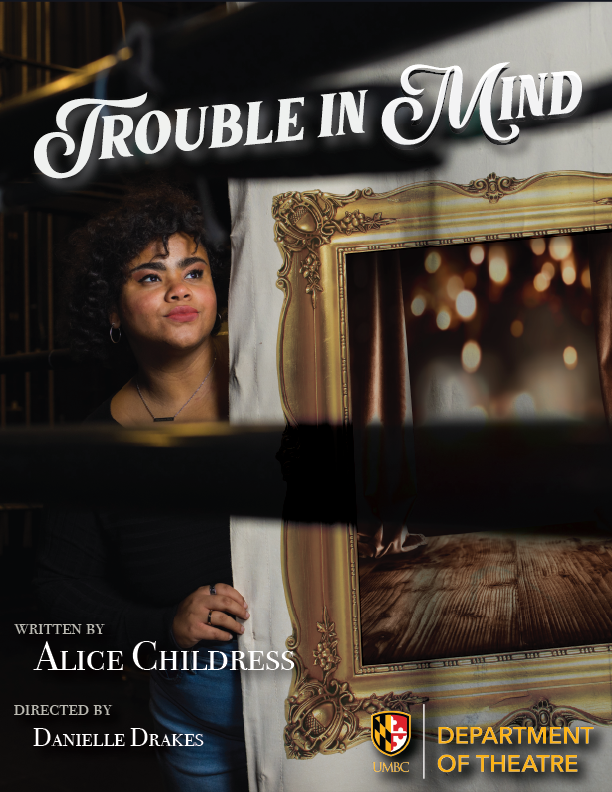 Written in 1956, Alice Childress's pioneering play, Trouble in Mind, shined a light on the lack of recognition, representation, and opportunities for Black theatre artists. During a turbulent rehearsal week for a new Broadway play, leading lady Willetta Mayer resists the rampant racism of the entertainment industry. No less relevant today, the play is a brisk, entertaining drama told with humor and pathos.
Directed by Danielle A. Drakes.
Performances
Thursday, November 3, 8 p.m. (opening night reception)
Friday, November 4, 8 p.m.
Saturday. November 5, 8 p.m. (prospective student night)
Friday, November 11, 8 p.m. (with an actor talkback session)
Saturday, November 12 8 p.m.
Sunday, November 13, 2 p.m. (free matinee for UMBC students, and with a CIRCA panel discussion)
---
Special events
Thursday, October 27 at noon — Moyenda Kulemeka will discuss her costume design for the production at an event presented by CIRCA.
Saturday, November 5 at 7 p.m. — Prospective Student Night. Interested in attending UMBC? Join us for the show, and be sure to arrive early (7 p.m.) to learn more about our program! No registration required. $5 tickets are available for Maryland high school teachers and students. Just use the code MDStaff&Students at checkout.
Friday, November 11, immediately following the 8 p.m. performance — Actor Talk-Back
Sunday, November 13, immediately following the 2 p.m. performance — CIRCA Panel Discussion: To See or Not to See: Acting and Truth in Alice Childress's Trouble in Mind. Join a distinguished, multidisciplinary trio of guests in diving deeper into the world of Trouble In Mind, in a lively discussion about how playwright Alice Childress took on race, truth, and how we "act" onstage and off, moderated by guest dramaturg Susan Stroupe. On the stage will be Kimberly R. Moffitt, UMBC's Dean of the College of Arts, Humanities, and Social Sciences, Jasmine Lee, UMBC's Director of Inclusive Excellence & Initiatives for Identity, Inclusion, and Belonging, and Gerrad Alex Taylor, actor, director, head of Chesapeake Shakespeare Company's Black Classical Acting Ensemble, and dialect coach for Trouble in Mind. Light refreshments will be served.
---
$15 general admission, $10 students and seniors. Please visit here to reserve seats.
Content Disclosure: While Trouble in Mind is subtitled a "comedy-drama," it depicts the reality of people of different races in 1950s America, both in real life and on stage. It contains microaggressive and overt racism against Black Americans, uses depictions of racist caricatures, contains racial slurs referring to different groups on marginalized people, and contains a description of past lynching. 
---
Permission granted by SLD Associates LLC,  454 12th Street, Brooklyn, New York 11215
Related Events