Tahir Hemphill: Rap Research Lab
Date:
January 31

-

March 18
Location: Center for Art, Design and Visual Culture (CADVC)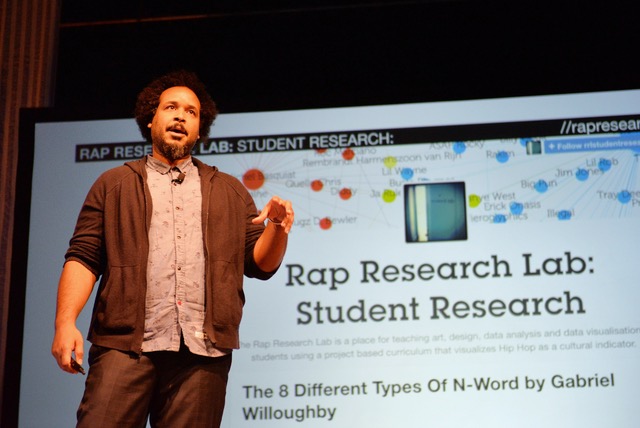 The Center for Art, Design and Visual Culture (CADVC) presents Tahir Hemphill: Rap Research Lab, opening on January 31 and continuing through March 18. A closing event will be held on March 16, details below.
The exhibition, which fosters experimentation and learning through visual and material explorations of geographies of hip hop, showcases an artist who occupies a hybrid space that intersects art, technology, social engagement, and interdisciplinary research.
Rap Research Lab will feature Tahir Hemphill's evolving body of multimedia artwork, including a presentation of his growing series titled Maximum Distance, Minimum Displacement, and new interactive works and works-in-progress on view for the first time. Among the new works is Visualisation of Authority, a kinetic sculpture illustrating the evolving data of library holdings that were the subject of Hemphill's research as the 2018 Harissios Papamarkou Chair in Education at the Library of Congress.
Tahir Hemphill: Rap Research Lab is more than an exhibition: it will transform the CADVC into an active research laboratory and studio focused on data visualizations of rap culture and history. The CADVC will also operate as a forum for learning through Mapper's Delight, a middle-school curriculum designed by Hemphill in collaboration with Verizon Innovative Learning.
Rap Research Lab will also operate as the classroom for Hemphill's teaching at UMBC. His spring 2023 course, IRC Fellows Topics in Art and Technology, invites an interdisciplinary group of students to work on translating ideas into new visual and material form through creative technologies. The course is offered in collaboration with UMBC's Imaging Research Center. Hemphill and his collaborators will mine the Rap Almanac, a vast dataset of rap lyrics that Hemphill has assembled from various archives over the course of many years, to produce new artworks, experiments, and visualizations. The presentation at the CADVC will grow and change as new work is produced.
Through the course of its presentation, the Tahir Hemphill: Rap Research Lab will invite audiences into the design and research process in a number of ways. In addition to sharing interactive works and data processing activities within the CADVC gallery space, Hemphill will offer public viewings of a series of public choreographed activations of a programmable robot arm, produced as a prototype for a partnership project with Foad Hamidi, assistant professor of information systems at UMBC. Details on these performance-lecture events will be announced.
---
Public Programs
On Thursday, February 23 at 2 p.m., Tahir Hemphill will be joined in conversation by Foad Hamidi, assistant professor in information systems and a specialist in human-centered computing. They will discuss their shared interests in participatory digital research of media and cultural systems. Please visit here for additional information.
On Thursday, March 16, the CADVC presents a celebratory closing event for the exhibition, On Institutions (Dub Remix), featuring a discussion of the exhibition with artist Tahir Hemphill and CADVC director and exhibition curator Rebecca Uchill. The 6 p.m. discussion will be followed by an open gallery visit accompanied by a live DJ set at 7 p.m. by CX Kidtronik.
---
Plan Your Visit
Admission is free. The CADVC is open Tuesday through Saturday, 10 a.m. to 5 p.m.
The CADVC is an easy trip from anywhere in the Baltimore-Washington area, just off I-95. Parking is free during evening and weekend hours, and metered parking is available at other times. Please visit here for directions and parking information.
---
The CADVC is committed to creating an accessible and inclusive environment for all students, staff, and visitors. If you have difficulties accessing any of the materials on its sites, please contact the staff via email so they can provide an alternative format and remedy any accessibility challenges.
---
Support for Tahir Hemphill: Rap Research Lab has been provided by PNC Bank, the Maryland State Arts Council, the Baltimore County Commission on the Arts and Sciences, and the Dean's Office of UMBC's College of Arts, Humanities, and Social Sciences.
Related Events